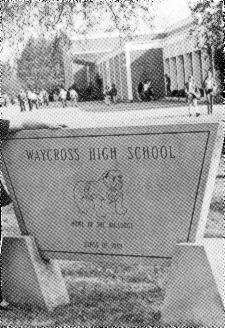 More Quiz Kids '71
Mainpage | Quiz Kids I | Alumni I | Alumni II | Teachers
---
26. Which Class of '71 legend was nominated on a ticket with Andy White in a mock Presidential election in 1968?

27. What beauty contest title was won by Douglas (Debo) Brown in 1971?

28. Who was selected STAR student in 1971?

29. What teacher was chosen STAR teacher?

30. Who did Donnie Dixon defeat in a runoff to win election as 1970-71 student body president?

31. What was the number one song on the Billboard charts on graduation night in 1971?

32. Name either Bulldogs' Bark writer and From the Doghouse TV show performer who became a minister.

33. Who was editor of the Class of '71 Bulldogs' Bark?

34. Which Austin twin was a football cheerleader in 1971?

35. Who did Waycross defeat in its final regular season football game in 1970 to end the season at 5-5?

36. Wyche Bryce was the date of what Class of '71 senior on graduation night?

37. What faculty member was referred to as Mr. Music Maker himself during the 1971 spring band concert?

38. What faculty member, in response to Victor Cannon's question, "Does Miss Gilbert wear a girdle?," responded: "I don't know Victor, I've never felt of her before."

39. What Class of '71 faculty member is now a professor of computer science at Western Kentucky University?

40. What Chicago hit was regularly played by the WHS band in 1971?

41. What drug store was located directly across from the Lyric Theatre in 1971?

42. What film, which won an Oscar for Best Song ("For All We Know"), was playing at the Lyric the weekend of spring holidays in 1971?

43. What male senior left the Lyric Theatre hysterically laughing at the end of the showing of "Love Story?"

44. What female senior convinced her date to walk out of "The Owl & the Pussycat" 20 minutes into the film?

45. What Class of '71 senior was considered to be a dead lookalike for faculty member A. Lee Edwards?

46. What Class of '71 basketball legend was named to the All-State team as a guard on the 1970 state AA runner-up team?

47. What Class of '71 senior's first date was with an "older woman," 1970 graduate Brenda Gail Miles?

48. On April Fool's Day 1971, what administrator was announced as scheduled that night to perform a concert of Glen Campbell songs on the parking lot of the Burger Chef?

49. What Class of '71 senior was selected Miss Waycross the August after graduation?

50. What were the call letters for Cable Channel 2, which was established in Waycross in 1970-71?


MORE QUIZ KIDS '71 TO COME
---
Back to Bulldog '71 Mainpage
---
The Bulldog '71 Mailbox

Our site is
http://gonow.to/whs71


Easy to reach, Easy to remember!