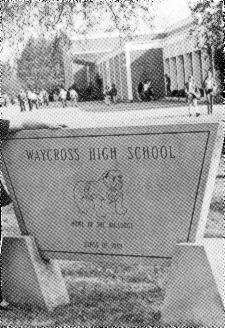 Legends of '71
---
Here are The Legends of '71 from Waycross High. Please send your vital statistics to us. If you're a '71 alum, you're a legend!



Mainpage | Alumni II | Alumni III | Alumni IV | Teachers | Quiz Kids I | Quiz Kids II

Danny Yarbrough
Address: 1600 Booth Street, Waycross, Ga. 31501
Phone: 912-285-8224 Fax: 912-285-5030
E-mail: dyarbro@surfsouth.com

The Yarbrough Files:
Happily married to Carolyn Cannon for 22 years. Two beautiful daughters: Lindsay Carolyn (18), senior at Ware County High, will attend UGA in 2001, wants to go into medicine; Jessica Marian (12) is a sixth grader at Waycross Middle School (formerly our WHS). Danny's organ version of The Star-Spangled Banner was frequently played at Bulldog basketball games in the '70s, whether he liked it or not.
Still running Yarbrough's Office Products and Printing with my brother, Sonny. The business is 68 years old this year. Looking forward to seeing everyone at our 30th reunion!
Significant WHS moments: during his junior year, Danny was with his MYF group from Trinity Methodist at The Green Frog. A rather sour waitress, known to the youth as "Frog," approached the table. Danny ordered a hamburger and french fries. After a marathon wait, Frog returned with a hamburger but no fries. Said Danny: "I ordered french fries." Frog: "Did you, son?" Danny: "Yes, and I'd like to have them now." Frog returned five minutes later with a plate of fries. Asked Danny: "Are they cooked?"

---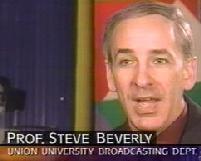 Steve Beverly
Address: 165 Smith Chamberlain Rd., Medina, Tn. 38355
Phone: 901-783-5295 Fax: 901-661-5366
E-mail: steve@tvgameshows.net

The Beverly Files:
Rebecca and I have been married 21 years. Our daughters are Melody (16) and Holly (11). After nearly 20 years in television news, for the past eight years, I've been professor of broadcasting at Union University in Jackson, Tn. True to form, I'm also a game show host, doing I've Heard That Song! every week on public television.
I'm also webmaster of TVgameshows.net, the online CNN of game shows. On January, I appeared on ABC's 20/20 with four of the biggest-money game show winners in history. Yes, I was an unsuccessful phone-a-friend on Millionaire in January, too. At some point this summer, if the producers can decide when, I will be a central figure on the new version of To Tell the Truth. The hair is grayer and thinner but the energy is still robust and this kid can't wait to see all of you again! It's been much too long.
Hobbies: web design, music and TV game shows. Steve was selected for Union's Innovative Teaching Award for the second time in May 2000 and has presented papers on broadcasting issues at conventions around the Southeast. He's still a sportscaster, doing 20 games a season of Union's men's and women's basketball games for public television in west Tennessee. Called the 1998 NAIA national championship game. Now the voice of the NAIA Home Video Network for the NAIA women's national championship tournament in Jackson, Tn.
Favorite WHS moments: announcing in the a.m. and every sport imaginable and being creamed with pies after the senior pep rally in '71. On the other hand, journey back to April Fool's Day 1971, when I orchestrated five classes returning from lunch to the wrong classrooms and never being discovered as the perpretator. Same day: sending an anonymous April Fool telegram to Patty Willingham congratulating her for tying for first place in the fictional 44th annual Waycross Nosepick and instructing her to report to Pic 'n' Save at 3:30 p.m. for a sudden death pick-off. Patty found that telegram during the 20th reunion.

---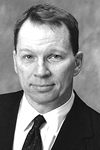 Samuel (Ivey) Hill
Address: 654 Pine St., Winnetka, Il. 60093
Phone: 847-568-1110 (direct) 847-446-4627 (home) E-mail: sam_hill@heliosconsulting.com

The Hill Files:
Spouse: Liz Upsall Hill, 23 years. Children: Rachel, a junior at Claremont McKenna College in California; Michael, a sophomore at New Trier High School.
You could have predicted it: Ivey (who goes now by Sam in the big business world), one of the trio of the 1971 WTLV "It's Academic" team, is probably richer than anyone in the Class of '71. Listen to his story: after 20 years in industry (Kraft, Booz-Allen & Hamilton, D'arcy), I formed my own firm three years ago. Our ten consultants, based in New York and Chicago, provide strategic counsel to major clients around the world. Over the years, I have begun writing more. My first book was "Radical Marketing" in 1998, and I now have a book coming out in the fall: "The Infinite Asset." Anyone who is interested in learning more about what I am up to can look at my website, www.heliosconsulting.com or my agent's, www.leighbureau.com. Also, look out for articles in Fortune Small Business in April (with a picture) and in Harvard Business Review in June.
Favorite WHS memories: I know this sounds terrible, but ALL my memories of 1971 involve being thrown out of class or school. Are you sure I was there?

---
Susan Shepherd (Welch)
Address: 10 Wiregrass Circle, Moultrie, Ga. 31768
Phone: 229-985-9568 E-mail: not listed

The Shepherd Files:
Spouse: one and only, the legendary Bulldog Kenny Welch for 25 years. Susan works for State Farm Insurance in Moultrie. Children: Walker (23), a junior at Valdosta State, and Paul (16), a sophomore at Colquitt County High.
Susan enjoys antiques, gardening and walking. She's involved in her local YMCA. She's also a volunteer for hospice.

---
Kenny Welch
Address: 10 Wiregrass Circle, Moultrie, Ga. 31768
Phone: 229-985-9568 E-mail: not listed

The Welch Files:
Spouse: one and only, the legendary Susan Shepherd for 25 years. Kenny is a sales rep for a mobile home factory in Moultrie. Children: Walker (23), a junior at Valdosta State, and Paul (16), a sophomore at Colquitt County High.
Kenny has three years of college behind him and still enjoys golf, hunting and fishing. The former Bulldog footballer married his high school sweetheart Susan five years after graduation.

---
Joyce Golden (Saddler)
Address: 205 Dover Lane, Madison, Ms. 39110
Phone: 601-898-0444 E-mail: JES0444@aol.com

The Golden Files:
Spouse: Louis Saddler, M.D., 12 years. Children: Trajan Bird (28), Kea Bird (25), Noelle Bird (22). Stepchildren: Shanna Saddler Pegues (23), Louis II (21), Shelby (19). Grandchildren: Deja Pegues (2) and Trajan Bird (18 mos.). Occupation: housewife.
Joyce is not idle, by any stretch. She is a wedding consultant and an active civic leader in the Jackson, Ms., area.
Hobbies: tennis, community work. Joyce is a member of the Lucy C. Jefferson Federated Club, a youth leader at Mt. Zion Baptist Church, on the board of directors for Madison County Cultural Center, on the board of directors and fundraising committee for the Make-a-Wish Foundation of Mississippi, team captain of the Jackson Ladies Tennis Association and a member of the Mississippi Tennis Association. Try catching your breath after that list!
Favorite WHS memories: let me think a while, will send later.

---
Kathy Womack (George)
Address: 1190 Cherrywood Road, Waycross. 31503
Phone: 912-287-1635 E-mail: not listed

The Womack Files:
Spouse: Elery George (4 years). Kathy is an r.n. and unit care coordinator at Satilla Regional Medical Center. Children: Allen Howell (30), Joey Howell (26), Bryan Howell (25) and stepchildren Jualecia George (20) and E.J. George (14). Grandchildren: 6.
Hobbies: gardening, antique cars, swimming, motorcycle riding, cooking, reading, horseback riding.
Favorite WHS memories: soccer and football games.

---
Ava Williams (Shider)
Address: 808 Beville St., Waycross 31501
Phone: 912-283-3537 E-mail: not listed

The Williams Files:
Spouse: deceased. Children: Moses III (29), Michael (27), Benjamin (23). Grandchildren: 6.
This former Lady Bulldog (yeah, we called them Bulldogettes in the '70s but what is a Bulldogette?) is now a minister who travels doing international evangelism. When at home, she is a bus driver. She attended seminary in the 1980s and also graduated from OTC in 1983. Fondly remembered as a starting guard on the first-ever state runner-up WHS girls basketball team in 1969-70. Hobbies: sewing and reading.
Favorite WHS memories: team player in sports, being selected a 1970-71 cheerleader ("I was only there exercising with the cheerleaders"). Says Ava: "Peggy Pruet taught me the cheer Dogs 'R Best and persuaded me to try out. Never in my wildest dream would I have thought I would be selected. A special thanks to Juana Austin. She had her work cut out with me."

---
George L. Sweat
Address: 3475 Floyd Dr., Blackshear, Ga. 31516
Phone: 912-449-3587 E-mail: not listed

The Sweat Files:
Spouse: Nita, 3 1/2 years. Children: none.
George attended Liberty University and is now with the Postal Service after retiring from a 22-year career in the Army. He was in the East-West Border Guard in West Germany from 1978-80, a recruiter in Virginia Beach from 1982-85 and lived in Green Bay (1989-92), Chicago (1993-94) and San Antonio (1995-97).
Hobbies: George is an avid ham radio operator and enjoys computers and fishing. He is a member of Okefenokee Amateur Radio Club.
Favorite WHS memories: how simple and innocent the people were. Times were changing in our world and we didn't have to really care or worry in those days about things. We really had the best years of our lives but didn't know it then.

---
Craig Fievet
Address: 1490 Blyth Walk, Snellville, Ga. 30078
Phone: 770-979-5479 E-mail: not listed

The Fievet Files:
Spouse: Donna, 23 years. Children: Julie (19), Laura (14).
One of the most respected members of the Class of '71 and a legend for his leadership in academics, Y work and off-campus as president of the first Area Youth for Christ organization, Craig went on to dental school and continues to practice dentistry in North Georgia. A member of Allen Johnson's first Bulldog basketball team in 1970-71, which went 17-6 in the tough Region 3-AAA. A friend to everyone who crossed his path.
Favorite WHS memories: all the wonderful friends.

---
Elizabeth Carol (Beth) McQuaig
Address: 406 W. Central Ave., Fitzgerald, Ga. 31750
Phone: 229-423-5351 E-mail: 3boysme@surfsouth.com

The McQuaig Files:
Spouse: she's available. Children: Beau Luckie (22), Leigh Luckie (18), Zach Luckie (18). Education: B.S., English, Georgia Southwestern State; M.A., English, Middleburg College Breadloaf School of English.
One of the sweethearts of Alice Street School in the '60s and one of the most popular WHS '71 alums, Beth was president of the 1970-71 WHS Pep Club (who else had more spirit?) and co-host of the memorable Wake Up, Waycross on the short-lived WCT-TV during her senior year. A member of the 1969-70 state AA runner-up Lady Bulldogs basketball team. Beth now teaches English and has become one of the greats in teaching in South Georgia, having been selected Fitzgerald High's Teacher of the Year in 1996 and 1999 and Ben Hill County's Teacher of the Year in 1996. However, among her high school peers, Beth is most fondly remembered for the night a huge roar went up in 1971 when WAPE deejay Jack Pride announced her as the first Miss Waycross High School. That was the same night one of Beth's fellow finalists was asked what television had done to improve culture (who wrote those questions?) and the finalist (not a member of the Class of '71) answered: "I think television has been doing a great job to help the farmers."
Hobbies: tennis, reading, community work. Beth is a member of the Fitzgerald/Ben Hill County Arts Council, Delta Kappa Gamma and her local Habitat for Humanity Board of Directors. She's also a former school board member.
Favorite WHS memories: great friends and being selected the first Miss Waycross High School.

---
Robert (Earl) Johnson
Address: 17 Allen Ave., Ft. Monmouth, N.J.
Phone: 732-544-8482 E-mail: not listed

The Johnson Files:
Spouse: Charlotte, 20 years. Children: Robert (17), James (14). Education: B.S., M.A.
Earl is a colonel in the U.S. Army. A career Army officer, he has commanded at all levels. Currently, he is Chief of Staff of Communications Electronics Command at Ft. Monmouth.
Hobbies: golf, running, stocks. Earl is also a member of AUSA (Association of the U.S. Army), AFCEA and SCRA.
Favorite WHS memories: too long in the past the closeness of friends I always cherish.

---
Martin (Marty) Karle
Address: P.O. Box 191, somewhere in Fla., likely Gainesville.
Phone: 904-462-4630 (home), 904-397-6762 (cell) E-mail: not listed

The Karle Files:
Spouse: none at present. Children: Elizabeth (16). Education: A.S., agribusiness technology, C.C.A. Occupation: sales rep, PCS Joint Venture, Ltd.
Always-jovial Marty suffered through as many Atlanta Braves losses in the '60s and '70s as anyone. He hasn't lost his love for sports. He was president (1995, 1999, 2000) of the Fightin' Gator Touchdown Club, the largest booster club of University of Florida sports. Marty is a certified crop advisor as part of his fertilizer sales work and says, "I love my work."
Hobbies: quail hunting, fishing, golf, more golf, shopping with Elizabeth. Member of Fightin' Gator Touchdown Club, Plantation Oaks Golf Club and Bainbridge Brotherhood Supper Club. Marty also likes to cook for large events and enjoys visiting his family. His father, Gus Karle, has been executive director of the Waycross Area Chamber of Commerce.
Favorite WHS memories: my friendship with Mike Honour and Charlie Smart, poker games, hamburger runs in the band room, my '66 sky blue Mustang, road trips to Fernandina Beach, my taxi service for the Ava Street girls, the power, knowledge and perks of being an office assistant, Miss Elaine Thomas and her journalism class, the pep rallies, home football and basketball games, Miss Bessie's algebra class, the anxiety, apprehension and excitement I felt on the first day of school, our school fight song the band played.....it was GREAT to be a Waycross Bulldog.

---
Andy J. Pittman
Address: 1316 Roosevelt St., Waycross 31501
Phone: 284-1050 E-mail: not listed

The Pittman Files:
Spouse: none at present. Occupation: Cody Industries, Pearson, Ga.
Andy was a football and baseball player and was always an affable guy. However, when asked about currently interesting facts about himself, Andy said: "I'm still living."
Favorite WHS memories: knowing I was there.

---
Patti Reese (White)
Address: 1606 Seminole Springs Rd., Waycross 31501.
Phone: 912-285-5067(home), 912-285-6083 (work) E-mail: pattiw@wayxcable.com

The Reese Files:
Spouse: deceased. Children: Mitch (17), Greg (16). Education: BFA, Valdosta State. Occupation: counselor.
One would be hard pressed to find a more kindhearted person than Patti. Always a sweetheart of the Class of '71, Patti was always active in Pep Club activities and school organizations.
Hobbies: soccer games, baseball games. Today, Patti says: "My house is the hangout for all the kids and I love it." That may be the least surprising fact about her.
Favorite WHS memories: Gosh, it was a long time ago. The girls basketball team going to state when I was a basketball cheerleader/manager in the 11th grade.

---
Anita Wood (Michaels)
Address: 6632 Youmans Chapel Road, Blackshear, Ga.
Phone: 912-449-6565 E-mail: mixednuts@accessatc.net

The Wood Files:
Spouse: John F. Michaels Jr., M.D. Children: Melissa Lee Peacock (17), Thomas Allen Peacock (14). Education: registered nurse. Occupation: mother/wife.
Anita was always a favorite of the Alice Street crowd and somehow managed to survive sixth grade with Lucille NeSmith, the teacher who said her gall bladder once burst but began sealing up by nature. She was a high school cheerleader and was once "saved" from a rapidly-dropping punt before the Benedictine game in her senior year. Anita was in the Miss Georgia Pageant in 1972 after winning the title of Miss Waycross.
Hobbies: reading, all home projects, playing penny stocks. Here's more of her own story: "Despite horrendous past mistakes, I managed to meet and marry a wonderful man (guess it helps that he is a psychiatrist)."
Favorite WHS memories: most of the real fun of high school for me was the cheerleading career and football. We had a blast at all the games and on all the trips, especially at the pep rallies. I will never forget the great parties at Gay King's house....so many friends...so much fun!

---
Debbie Estes (Sanders)
Address: 3455 Leaf Land Court, Duluth, Ga., 30097. Phone: (770) 497-0535. E-mail: JB.JJ@juno.com

The Estes Files:
Spouse: Tom Sanders, 15 years. Children: Blair (12), Jordan (7). Occupation: Housewife, Mother. Education: B.A., theatre arts.
Debbie is actively involved in homeschooling and is a member of Gwinnett Christian Home Educators, Peach Home Educators and Chi Omega Sorority Clubs. Says Debbie: "I am a stay at home mother and I home school my children. Before I had children, I was a general agent for an insurance company."
Reunion wish: I would love to receive the information booklet. Would you let me know how much I need to send. I hope you all have a wonderful time at the reunion. Wish I could be there.

---
Tony Park
Address: 1086 Walden Rd., Tallahassee FL.
Phone: 850-942-7730 E-mail: not listed.

The Park Files:
Spouse: Syble, 22 years. Children: Darren, David, Michael. Grandchildren: Katie, Trey. Education: B.S., civil engineering, Auburn. Occupation: director of civil engineering services.
Tony was one of the most affable guys of the Class of '71 and one of the Fabulous Five who made the grade as far as a Spanish III class with Linda McCullar, when Tony would become Antonio Parque.
Today, in addition to his family, Tony is a member of the Florida Engineering Society and the American Public Works Association.
Favorite WHS memories: ask him at the reunion.

---
Diane Hyde (Johnson)
Address: 1014 Barkley St., Waycross, Ga. 31501.
Phone: 912-287-1191 E-mail: ljohnson@wayxcable.com

The Hyde Files:
Spouse: Lamar Johnson, 26 years. Children: Leah Michele (19), in nursing school; Linsey Diane (16), junior at Ware County High. Occupation: Champion International.
Diane is part of the reunion organizing committee and is married to another Bulldog legend from the Class of '70 and Alice Street School, Lamar Johnson. Says Diane: "I had been employed with Champion International for 28 years and we were recently bought by International Paper. Our mill was chosen to be permanently closed. I currently am one of four people still working at this location and will be there probably until the end of the year. My plans are to stay home and work with Lamar in his business. Hope to see everyone at the upcoming reunion.

---
Bill Smith
Address: 3130 Huntington Ridge Circle, Valdosta, Ga., 31602.
Phone: 229-247-2058 E-mail: fredamarie@hotmail.com

The Smith Files:
Spouse: Freda McDonald (WHS Class of '74). Children: Jamie Marie (25), Austin (18). Occupation: elementary school music teacher, 20 years.
Bill was Mr. Music Maker in his WHS years and went on to lead the Bill Smith Orchestra in Trinity Methodist's musical, "Hello, World," in 1972. He was also a member of that great, well-remembered, unofficial fraternity OTO (sometimes referred to as Only Tough Opponents). Always involved in some kind of band and performance in music. Says Bill: "I am alive and well and still living in Valdosta (football capital of the world but still a Bulldog at heart."
Hobbies: you guessed it, music. "I have been an elementary music teacher for 20 years and still play in all kinds of bands just about every weekend....everything from r&r to civil war music to contemparary Christian. I'd love to hear from any of you.
Favorite WHS memories: OTO, forever!

---
Sherri Evans (Conley)
Address: 2709 Coventry, Carrollton, Tx. 75007.
Phone: 972-242-2481 E-mail: not listed

The Evans Files:
Spouse: Bill Conley (Class of '72), 22 years. Children: Glenn Williamson (29), Kelly Conley (18). Grandchildren: Keith Williamson (9). Occupation: owner, architectural engineering firm.
Sherri was rarely without a smile in the halls of WHS and married one of the greatest mile runners in the history of the school, Bill Conley (we knew him as "Billy")---he of those memorable showdowns with Gary Robbins. Sherri was a manager for the legendary state AA runner-up Lady Bulldogs basketball team in 1970.
Hobbies: biking, skateboarding, 4-wheelers. Clubs: Boy Scouts. Here's more from Sherri: "I have come a long way with only a high school background. You can do what you set out to do, if you really try."
Favorite WHS memories: basketball girls playoffs in Atlanta.

---
Teresa Tapley (Ganas)
Address: 4850 Jamestown Rd., Waycross, Ga. 31501
Phone: 912-285-2475 E-mail: to come

The Tapley Files:
Spouse: Rusty Ganas, 25 1/2 years. Children: Garrett (20), Hannah (16). Occupation: teacher. Education: B.S., M. Ed., soon EDS.
You could not find many more school spirited people than Teresa, a cheerleader and Pep Club officer. One of the friendliest '71 legends anywhere and she was just as active in the high school years at First Baptist Church. She was another of those cheerleaders who trudged with the Lady Bulldogs to the 1970 state playoffs in Atlanta and the state championship game. Teresa married a legend in his own right, All-State Ware County football player and basketball star Rusty Ganas, who is athletic director of the consolidated Ware County High School.
Hobbies: cooking, sports and my family. Says Teresa: "I am about to become a media specialist (librarian)!" Don't tell us you're going to become shades of the incomparable Fraulein Gilbert! Naaaaaaah, no way.
Favorite WHS memories: friendships.

---
Marie Varn (Sams)
Address: 508 Antioch Rd., Fayetteville, Ga. 30215
Phone: 770-461-8917 (H) 770-461-5894 (W) E-mail: jsschool@bellsouth.net

The Varn Files:
Spouse: Jim Sams, 23 years. Children: Jim Jr. (21), Margaret (18), Joseph (deceased, 1996 at age 14). Occupation: teacher (special education). Education: B.A., history (Emory), M.Ed. (Ga. State).
What can you not say about Marie? A leader in every category: vice president of WHS Student Council in '71, class valedictorian (if we had been given the chance to name one), National Honor Society, basketball cheerleader, homecoming court representative, and candidate for vice president of the United States before Geraldine Ferraro (in a 1968 mock election). One of the most academically-talented people anywhere and for many years now, giving back to the north Georgia communities with The Joseph Sams School, which she founded in the mid-1980s to serve children with developmental disabilities. A past director of the school named for one of her children, Marie is now lead teacher of the middle/high school program.
Hobbies: antiques, working out, running, gardening. Clubs: United Methodist Women.
Favorite WHS memories: senior year, Dairy Queen, junior/senior prom (senior year with the legendary Hour Syn), Miss Dean's senior English class.

---
Ellis Tillman
Address: 3021 SW 27th Ave., #7, Miami, Fl.
Phone: not listed E-mail: ellistill@aol.com

The Tillman Files:
Spouse: none. Children: none. Occupation: resident costume designer, Coconut Grove Playhouse.
Ellis was active in chorus and art at WHS and was part of the active youth group at Trinity Methodist. He sang in the youth musicals "Purpose" and "Hello, World" and was a volunteer with the senior citizens at Trinity. He played the lead as Sir Thomas More in "A Man for All Seasons" at Middle Georgia College and went on to earn a degree in art at the University of Georgia. Ellis has been involved in professional theatre work for a number of years.

---
Mimi Settle (McGahee)
Address: 6397 George Rd., Lake Park, GA 31636
Phone: 229-333-5655 and 229-249-2781 E-mail: mmcgahee@valdosta.edu

The Settle Files:
Spouse: Terry McGahee, 26 years. Children: Jared (18), attending Valdosta State; Magen (15), 10th grader at Lowndes High Schoool; Erin (8), Lake Park Elementary. Occupation: director, Educational Technology Training Center, Valdosta State University.
Mimi has been a favorite dating back to the old Isabella Street days (singing "Isabella, we're so proud of you," to the tune of "The Caissons Go Rolling Along"). Homecoming queen, senior superlative, cheerleader, excellent student---all of that describes Mimi. Voted the girl with the most school spirit in 1971.
Mimi is now a top-flight college administrator as director of the ETTC at Valdosta State, which provides classroom teachers with high-tech aids and programs.
Favorite WHS memories: "Jeremiah Was a Bullfrog."

---
Back to Bulldog '71 Mainpage
---
The Bulldog '71 Mailbox

Our site is
http://gonow.to/whs71


Easy to reach, Easy to remember!