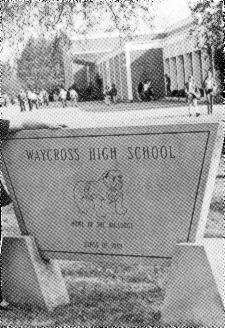 Quiz Kids '71
Mainpage | More Quiz Kids | Alumni I | Alumni II | Teachers
---
1. Who did Waycross defeat for its first football victory in the 1970 season?

2. How many games did the Bulldogs win in basketball in 1970-71?

3. What cheerleader said, "Do you feel like you're just walking out on your whole life?" after the final football game of 1970?

4. What was the number one television show in the ratings in 1970-71?

5. Who was president of FBLA (Future Business Leaders of America) in 1970-71?

6. The It's Academic on-air team was composed of Steve Beverly, William Clark and what third member in 1971?

7. What game show was Bob Barker hosting in 1971?

8. What female received a telegram in 1971 in Carolyn Dean's class announcing she had tied for first place in the 44th annual Waycross Nosepick?

9. What 1971 senior created the famous "lookaway act" by calling the name of a classmate and looking away?

10. Who was governor of Georgia in 1971?

11. Who was the original quarterback of the 1970-71 Waycross Bulldogs?

12. Who was the first (in 1971) of only two crowned Miss Waycross High School?

13. What 1971 senior, who is still in business in Waycross, once asked, "Are they cooked?" when a waitress at the Green Frog brought out his french fries?

14. What 1971 teacher now has an e-mail address: setstep99@yahoo.com?

15. What was the final song performed at the 1971 spring WHS chorus concert?

16. Who was the director of that concert?

17. Who won the 1971 Super Bowl?

18. What brand of gas did Charlie Smart's family sell on Memorial Drive?

19. What business did David Prisant's family operate on Memorial Drive?

20. Where was Terry (Teddy) Altman's mother cafeteria manager in downtown Waycross in 1971?

21. What was the lowest price of gasoline on graduation night in 1971 in Waycross?

22. What band played for both graduation and the legendary Junior-Senior prom in 1971 at WHS?

23. What was the ill-fated homecoming theme which was summarily jettisoned after being prematurely announced in the fall of 1970?

24. What first runner-up to Miss Waycross High said on the night of the pageant she wanted to be "a FBI?"

25. What 1971 senior later was elected to the Waycross Democratic Executive Committee in 1974?


MORE QUIZ KIDS '71 TO COME
---
Back to Bulldog '71 Mainpage
---
The Bulldog '71 Mailbox

Our site is
http://gonow.to/whs71


Easy to reach, Easy to remember!