ALUMNI '71 | ALUMNI II | ALUMNI III | ALUMNI IV | QUIZ KIDS '71 | QUIZ KIDS II | TEACHERS
---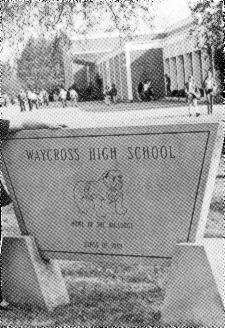 If you're looking for a Faux Pas concert, the complete transcript of a Carolyn Dean lecture, or an online recording of the 8:25 a.m. announcements on this site, you're in the wrong place.

This is merely a hangout for the greatest graduating class in the history of the late Waycross High School----the legendary Class of '71. We never judged a man until we walked in his shoes at the Burger Chief. We watched Cowboy Bob Miller walk out the back door of the gym at the start of every 2:15 assembly. We blew a 75-point lead on It's Academic in the Grab Bag round.

The weekend of July 27-28, 2001, we'll celebrate 30 years of greatness with the legends of the WHS Class of '71---and everyone who is an alum is indeed a legend. Rumor has it one or two teachers may amble back to remember us. The July 27 evening is scheduled at Okefenokee Heritage Center and the following evening is a dinner dance at Bahamas Grille (if you've been away a while, you may need directions).

This official website is a clearinghouse and meeting place for a virtual reunion in advance of the 2001 gathering. Click here at: WHS '71 Mailbox and leave us the following:
E-mail address
Mailing address
Marriage/family/single information
Occupation
One special memory of 1971
If you were a teacher or administrator in 1971, please leave us the same info, unless you are one of these who's afraid of a computer.
As we receive e-mail addresses, we will post the information along here---along with any other interesting bits of embarrassing moments we can reconstruct.
For now....as Donnie Dixon laughingly announced to the student body in late March 1971: "The theme of this year's junior-senior is.....(hee hee hee) WE'VE ONLY JUST BEGUN!"
---
ALUMNI LEGENDS OF '71 | QUIZ KIDS '71 | TEACHERS
---
The Bulldog '71 Mailbox

Our site is
http://gonow.to/whs71


Easy to reach, Easy to remember!