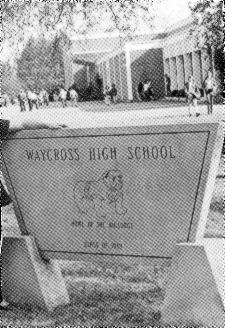 Legends of '71
---
Here are The Legends of '71 from Waycross High. Please send your vital statistics to us. If you're a '71 alum, you're a legend!




Mainpage | Alumni Legends I |Alumni Legends II | Alumni Legends III | WHS '71 Teachers



Cathy Holle (Mayberry)
Address: P.O. Box 191, Sandersville GA 31082
Phone: 478-552-2384 E-mail: crmayberry@sandersville.net.
Spouse: Randy, 28 years. Children: Jenny, 24, currently at Medical College of Georgia; Susan, 19, student at UGA.

The Holle Files:
Occupation: principal, Sandersville Elementary School. Education: UGA; graduate work, Georgia College, Georgia State.
Hobbies: walking, reading, traveling. Clubs: Transylvania Club (group responsible for Georgia historical plates), Washington Co. Library Board, Sandersville City Council Advisory Committee, Sandersville United Methodist Church.
&nbsp Senior superlative, National Honor Society, you name it, Cathy achieved it. Cathy is one of two known school principals from the Class of '71. Let's hear more of Cathy's own story: "Randy and I are new 'empty nesters.' Since he travels extensively as export sales manager for a Kaolin company, I am now able to accompany him when my school schedule allows. Our older daughter is getting married in December. Her engagement party is July 28 (the only date we could schedule), so we will not be able to attend the reunion. We had really looked forward to it and are so disappointed we will not be able to attend."
Favorite WHS memories: pep rallies, proms, decorating homecoming floats.

---
Kathy Taylor (Killens)
Address: 1371 Paschall Road, Waycross GA 31501
Phone: 912-285-5394 E-mail: none listed.

The Taylor Files:
Spouse: Harry Killens, 29 years. Children: Chad, 29; Tasha, 21; Tasia, 21. Grandchildren: 3.
Occupation: activity assistant at a nursing home. Education: some classes at OTI.
Kathy is a former FHA and NYC member and married one of Waycross High's top centers of the '70s, Harry Killens---who started for the 1-AA East champion Bulldog basketball team in 1969-70.

---
Barbara Pittman (Hines)
Address: 12717 Dunn Creek Rd., Jacksonville FL 32218
Phone: 904-751-5420 E-mail: none listed.

The Pittman Files:
Spouse: Rusty Hines, 23 years. Children: Hayley Hines Hood (22), Hillary Hines Wilson (20), Lindsay Hines (17), Carly Hines (14). Grandchildren: Trevor Adam Wilson, born in 2000. Occupation: owner, state-licensed day care.
Always affable Barbara was a library and office assistant and a genuinely pleasant girl. Now in the daycare business, Barbara was a contestant in the 1972 Miss Waycross Pageant. Her hobbies include sewing and cooking.

---
Theresa Burton (Lamkin)
Address: 803 E. Cherry St., Duncanville, Tx. 75116
Phone: 972-296-6193 E-mail: rlamkin@iwon.com

The Burton Files:
Spouse: Roger, 24 years. Children: Nathan (19), Zack (17), Stuart (15). Occupation: first grade teacher. Education: B.A., education.
A sweetheart from the word go, Theresa married Roger Lamkin from the Class of '70, who is in sales in Texas. Their son Nathan is in the Marines and life is busy for the Lamkins.
Hobbies: crafts, shopping, calligraphy. Clubs: Band Boosters ("I don't have any other time for crafts or clubs. I have kids and a husband and a job....who has extra time?"). Theresa admits to having these unfulfilled fantasies: a tattoo and having her belly button pierced (no joke, she wrote this on the form!). Reality: she's been married to the same guy for 24 yars, has three wonderful boys, three dogs and a cat and loves being a wife, mother and teacher. Favorite WHS memories: friends, teachers, being sweetheart of the Seagram 7.

---
Bill Holt
Address: 8493 Spring Hill Dr., Spring Hill FL 34608
Phone: 352-686-8481 E-mail: wholt@tampabay.rr.com

The Holt Files:
Spouse: Sonja Gayle Holt. Children: Jeremy, 24; Jason, 21; Ira, 18. Grandchildren: Will, 4.
Occupation: retired. Education: continual.
Here he is....the Ric Flair of the Class of '71. Just think about it: there is a mild resemblance. If the Seagram Seven had been the Four Horsemen, Bill would have been the leader. Bill says the most interesting fact about him is he's still alive. He enjoys fishing and travel and is a member of the American Legion and BPOE.
Favorite WHS memories: Fernandina at spring break, late night parties at Tommy Dell's house, with the messy wall, etc. Getting Ed Coleman to snap the FHA picture with me in it (before boys were allowed).

---
Jane Groover (Holt)
Address: 4115 Peachtree Dunwoody Rd. N.E., Atlanta GA 30342
Phone: 404-233-8558 E-mail: JGinnyHolt@aol.com.

The Groover Files:
Spouse: Tim L. Holt. Children: Jason Sapp, 24. Occupation: interior designer. Education: B.A., finance, UGA.
Jane is one of those Class of '71 alums who goes back to the Isabella Street days ("let us sing, let us cheer for the school we love so dear...."). She now enjoys gardening, walking and cooking.
Favorite WHS memories: Doughnuts from the bakery at 6 a.m., the stage in Mrs. Netherton's class, biology with Mrs. Groszmann and math with Daisy Schiefelbein (that goes back more than 30 years!), spend the night parties, Tri-Hi-Y, WHS football games, pep rallies, senior parties with scavenger hunts, swimming and pajama breakfasts, spring break at Fernandina.

---
Emily Odum Miller
Address: 844 Kentland Dr., Waycross GA 31503
Phone: 912-285-7693 E-mail: none listed.

The Odum Files:
Spouse: Butch Miller, 27 years. Children: Brett, 21; Trina, 19; Jennifer, 17. Occupation: teacher. Education: Master's, elementary education, Valdosta State.
Emily deserves a medal for having to endure the morning roll call in Knot Culpepper's sophomore biology class, during which she was perpetually called "Miss Odor." She now lists reading as her hobbies, which she has little time to do with her family responsibilities, as well as teaching. Emily was a valued member of that 1970 first state runner-up Lady Bulldog basketball team. She now has to endure life as the sister-in-law of the legendary Cowboy Bob Miller.
Favorite WHS memories: playing basketball. Memorable VSC moment: after Waycross High upset Valdosta in football in 1973, her future brother-in-law was named in the Waycross paper as hosting a victory party at the apartment of one "Cowboy" Bob Miller. On the following Sunday night, Emily and a group of friends invaded Shoney's in Valdosta where Bob was eating alone and they all promptly yelled, "Heyyyyyyyyyyy, Cowboy!" Miller was redfaced and never the same.

---
Ronny Lynn
Address: 401 W. Hamilton Ave., Waycross GA 31503
Phone: 912-283-4582 E-mail: warden3@wayxcable.com

The Lynn Files:
Spouse: Mary Ann Thrift, 27 years. Children: Ashley (19), Jamie (16). Grandchildren: Joshua Austin Lynn, born 2001. Education: South Georgia College, Douglas.
Occupation: Department of Natural Resources Conservation. Always jovial Ronny spent a number of years in law enforcement before his present job. His hobbies are fishing, hunting and NASCAR racing (he doesn't say if he is an Earnhardt or Gordon fan, or neither). He's also a member of the Blackwater Fishing Club.
Ronny says something interesting to him: "I live one block from where I was born and raised. My wife was born and raised two blocks from where we currently live."
Favorite WHS memories: the friends we made and the friendships that have endured through the years.

---
Bobby Williamson
Address: 1110 Riverdale Dr., Waycross GA 31501
Phone: 912-287-9985 E-mail: none listed.

The Williamson Files:
Spouse: Jean, 23 years. Children: Glenn, 30. Grandchildren: 1. Occupation: Fleet department manager, Lewis & Raulerson, Inc.
Bobby is an alum of the Alice Street mafia which won three out of four Midget League football championships from 1962-65 and played in the old Thanksgiving weekend Midget Bowl, sponsored by the City Recreation Department.
Hobbies: hunting and fishing.

---
Michael (Mike) Honour
Address: 1155 Bend Creek Trail, Suwanee GA 30024.
Phone: 678-473-1604 E-mail: michaelhonour@HHConsulting.com

The Honour Files:
Spouse: Cherie, 10 years. Children: none. Occupation: owner, information technology recruiting firm. Education: Okalooca Walton Jr. College.
Hobbies: vegetable gardening, vehicle restoration, history. Clubs: Free and Accepted Masons. Mike and Andy Pittman were reliable pinch-hitters and sometimes back-to-back in the Bulldog baseball lineups of the early '70s. Mike's humor has not disappeared. Asked to tell an interesting fact about himself, he answered: "Not much really, except I'm B.D. Cooper and lost all that money in Las Vegas."
Favorite WHS memories: the crazy things we got away with in Mr. Husbands' art class.

---
Herb Williams
Address: 411 Glen Arven Dr., Thomasville GA 31792.
Phone: 229-228-5951 E-mail: swampboy@rose.net

The Williams Files:
Spouse: one I wish I'd never married! Children: Elizabeth, 17; Walter, 15. Education: Valdosta State, SWGTC. Occupation: physical therapist.
Herb was a member of those successful Bulldog tennis teams of the late '60s and early '70s. He's now active in civic organizations in Thomasville.
Hobbies: tennis, basketball, pool. Clubs: Kiwanis Club of Thomasville. As for interesting things about Herb, he says, "Spend time with me and find out."
Favorite WHS memories: friends, tennis trips, all the good times.

---
Sylvia James (Johnson)
Address: 1410 Bunche St., Waycross GA 31501
Phone: 912-287-0005 E-mail: not listed

The James Files:
Spouse: Joseph E. Johnson (Class of '71), 28 years. Children: Joseph Jr., Jalaam, Kim Johnson McGauley. Grandchildren: DiQuaiin, Joseph III, Jada, Sylvia, Johnna, Jeremiah McGauley, Zykeria. Education: 2 years, college. Occupation: director, St. James Day Care Center.
Hobbies: cooking ,sewing, reading, gardening, traveling. Sylvia has become a witness for Christ, telling us: "The Lord called me to be an evangelist four years ago. I love helping others. My grandchildren are the greatest." She also married her classmate, who you will see depicted directly below.
Favorite WHS memories: Coach Nolan Lang. I'll always remember him because that was the second year we integrated and he went out of his way to make me feel at home with him in his class.

---
Joseph E. Johnson Sr.
Address: 1410 Bunche St., Waycross GA 31501.
Phone: 912-287-0005 E-mail: none listed.

The Johnson Files:
Spouse: Sylvia James (Class of '71), 28 years. Children: Joseph Jr., Jalaam, Kim McGauley. Education: high school. Occupation: CSX.
Hobbies: fishing, traveling, carpentry, plumbing.
After high school, Joseph went into the U.S. Army, where he stayed for two years. Then, he married classmate Sylvia and joined the National Guard, where he retired in 1993.
Favorite WHS memories: getting my high school diploma.

---
Back to Bulldog '71 Mainpage
---
The Bulldog '71 Mailbox

Our site is
http://gonow.to/whs71


Easy to reach, Easy to remember!