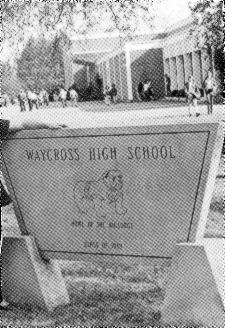 Legends of '71
---
Here are The Legends of '71 from Waycross High. Please send your vital statistics to us. If you're a '71 alum, you're a legend!




Mainpage | Alumni I | Alumni III | Alumni IV | WHS '71 Teachers



Elizabeth Mercer (Cason)
Address: 616 St. Mary's Drive, Waycross, Ga. 31501
Phone: not listed E-mail: merceramber@hotmail.com
Children: 1 daughter, Grandchildren: 1

The Mercer Files:
Elizabeth may have one of the most interesting jobs of any of the '71 WHS legends. She and her husband team drive a truck for TRISM. Elizabeth is married to Chester Cason and their first granddaughter was born in March.

---
Cindi Dunbar (Sattler)
Address: 900 Dilworth St., Apt. E-5, St. Mary's, Ga. 31558
Phone: 912-576-6007 E-mail: cdsattle@southernco.com

The Dunbar Files:
Spouse: Jim Sattler. Children: none.
Cindi now works for Georgia Power Co. in St. Mary's. Her husband, Jim, is in the Navy at Kings Bay Naval Sub Base, stationed on the USS Maine.

---
Joyce Worley (Screws)
Address: 2227 Ridge Rd., Waycross, Ga. 31501
Phone: none listed E-mail: jnscrews@gate.net

The Worley Files:
Spouse: Jim Screws, 2 years. Children: Allen Newsome (20), attending OTC in computer programming; Jacob Newsome (17), rising senior at Brantley County High School.
Joyce is remembered as one of the all-around friendly people from WHS and was always tooting her own horn in the WHS band, directed by the immortal Basil Rigney. She is now a certified substance abuse counselor for the Satilla Community Services Program with the state of Georgia. Her husband Jim performs a similar role as a certified addictions counselor with the same program. Says Joyce: "Looking forward to seeing everyone. This will be my first reunion since graduation."
Favorite WHS memories: My experience with the band holds the greatest memories for me. Most of the band trips were "wild" and we were "top notch" in performance.

---
Janie Lee (Fields)
Address: 910 Edgewood Circle, Blackshear, Ga. 31516
Phone: not listed E-mail: janie@accessatc.net

The Lee Files:
Spouse: none. Children: Amy (28), Kimberly (18). Grandchildren: Joy (4), Noel (2). Occupation: principal, Ruskin Elementary School.
Can you picture Janie having to "take kids to the woodshed?" She's become a leader in education in Pierce County. Janie was a basketball cheerleader in 1970-71 for that legendary first-ever state AA runner-up Lady Bulldog team. Janie also won the Foxy Lady Award at the 10-year Class of '71 reunion.
Favorite WHS memories: how can you pick just one?

---
Shirley Watkins (Middleton Blalock)
Address: 1199 Sharonton Dr., Stone Mountain, Ga. 30083
Phone: 404-299-3144 (H) 404-656-0689 (W) E-mail: blafam@bellsouth.net

The Watkins Files:
Spouse: Roger Blalock, 12 years. Children: Patrice Middleton (26), Antoine Middleton (19), student at Valdosta State; Rochelle Blalock (11), attends Green Pastures Christian School.
If you see Shirley, she may or may not want you to salute. She was a sergeant in the U.S. Army for seven years on active duty and served in the reserves for six. Among her tours of duty were Hawaii, Puerto Rico and Panama. Shirley is now employed by the State Department of Corrections in Atlanta.

Favorite WHS memories: the proudest moments would be, of course,the activities centered around graduation. I can't be more specific at this time but hopefully there will be someone there that can remind me. Look forward to seeing you guys in July.

---
Thomas K. (Kemp) Littlefield
Address: 105-A Forbes Ave., Carlisle Barracks, Pa. 17013
Phone: 717-245-0709 E-mail: kempnbarb@aol.com

The Littlefield Files:
Spouse: Barbara, 25 years. Children: Meredith (22), Amy (18), Lelani (13). Occupation: Colonel, U.S Army, faculty at U.S. Army War College.
Kemp is another one of those affable, academically-talented guys who made the military his career. He earned a scholarship to West Point and went on to gain his M.S. in operations research and systems analysis at Naval Postgraduate School. Kemp may not remember his guest appearance in 1971 on Wake Up, Waycross, when he detailed his exploits at an academic banquet accompanied by faculty sponsor Carolyn Dean. When asked on live television Miss Dean's reaction to the banquet, Kemp replied: "Well, she got a free meal!" Also debated the merits of the film "Catch 22" with Samuel (Ivey) Hill on Wake Up.
Hobbies: fishing, hunting, Harleys. Here's Kemp on his own story: "I'm an old soldier who has served around the world. Eight moves in the last 11 summers."
Favorite WHS memories: good friends and good times. Sue's Grocery. Fernandina Beach. Water ski time.

---
Willogene King (Camp)
Address: 133 Julee Emilyn Dr., Bonaire, Ga. 31005
Phone: not listed E-mail: wcamp52449@aol.com

The King Files:
Spouse: Don Camp (25 years). Children: Donnie (23), Alicia (17). Occupation: operates software development company.
Willogene is another of the '71 legends who was rarely without a smile. Her software development company is owned by Wells Fargo and offers software to the consumer finance and banking industry. She was active in FHA, FBLA and FTA and was a member of the 1969-70 Lady Bulldogs basketball team.
Favorite WHS memories: I'd have to say the prom. I can't seem to forget that our theme was "Joy to the World." I hope my memory serves me right and that it was 'Prom '71'."

---
Barry Persons
Address: 100 Cotton Mill Court, Fayetteville, Ga. 30215
Phone: 678-817-5530 (H) 678-817-5531 (W) E-mail: bpersons@ilog.com | persons2@bellsouth.net

The Persons Files:
Spouse: Candy (7 1/2 years). Children: Chrissy (5 1/2), Barry Jr. (4). Education: B.A., Georgia State. Occupation: global account manager, ILOG, Inc.
Barry works for a multinational software company which serves a number of major businesses, including transportation, aerospace and government. His wife Candy is a homemaker.
Favorite WHS memories: thanks to the Class of '71 for inviting me to the reunion. I am sorry that I am unable to attend. I am excited the Class of '71 thought about me when sending invitations. Even though I am rarely able to visit Waycross or south Georgia, I frequently think about growing up there. My children love for me to tell them about growing up in Waycross and south Georgia. Thanks again for thinking of me, have a great reunion and God bless you!

---
Forrest Shoemaker
Address: 1212 Nunanu Ave. #1406, Honolulu, Hi. 96817
Phone: 808-587-7889 E-mail: shoebedo@gte.net

The Shoemaker Files:
Spouse: position vacant at present. Children: Tommy (27), Myriah (25). Granchildren: Darean, 2. Occupation: restaurant supply distributor.
Forrest says no interesting facts exist about him but he has questions about some other Bulldog legends (see below).
Hobbies: running, gym, surfing.
Favorite WHS memories: what happened to these guys...Dan Littlefield, Bill Farris, Winston Lee? Forrest, we're trying to get that info posted. We do know Bill has been road manager for Reba McIntyre for a number of years.

---
James Inman
Address: 8943 E. 46th St., Indianapolis IN 46226-4125
Phone: not listed E-mail: JASBOND7@aol.com

The Inman Files:
Spouse: Deanna, 22 years. Children: Nicholas, 21, senior at Purdue in aviation technology; Genesis, 19, Purdue, telecommunications. Occupation: U.S. Postal Service, Indianapolis.
James was another member of that overachieving first Bulldog basketball team of Allen Johnson in 1970-71 which went 17-6 and smoked most of the Savannah-area competition. Ironically, he went on to teach social studies at Savannah High. James became a major in the U.S Army and also worked in civil service at Ft. Harrison, In.
Favorite WHS memories: "Lay Lady Lay" (by Bob Dylan) playing on the intercom in the lunchroom and eating some of the best cinnamon rolls I can remember.

---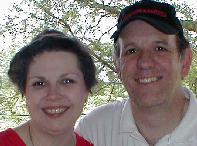 Bob Walker
Address: 1190 Knoll Dr. W., Jacksonville, Fl., 32221
Phone: 904-783-6225 E-mail: KC4JXY@juno.com

The Walker Files:
Spouse: Marlene, 22 years (one wife only, my wife won't let me get more). Children: Genny (19), Laura (16). Education: School of Hard Knocks. Occupation: claims supervisor.
This guy was always in the middle of anything he could be in the middle of and was a cracker-jack timer for junior varsity basketball games. When you read more of his info, you'll see his sense of humor has not deteriorated. Bob was a watchmaker for a while after graduation.
Hobbies: photography, live broadcast television (doing, not watching), aircraft, shooting. Clubs: I had one but my wife kept using it on me, so I lost it (I prefer hearts and spades anyway).
Favorite WHS memories: was I interesting in high school? I'm still not.

---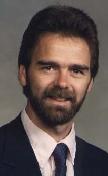 Jim Wade
Address: RR2, 2786 Ridgemore Dr., Toccoa, Ga. 30577
Phone: 706-779-5004 E-mail: not listed

The Wade Files:
Spouse: Kathy, 22 years. Children: Alayna (18), Daniel (13). Education: B.S., Valdosta State; M.D., Medical College of Georgia. Occupation: M.D., internist.
Jim is the Musical Doctor. Always a standout in academics and with the various WHS bands, Jim has been a practicing physician with The Toccoa Clinic for a number of years. In fact, you can see Jim up close and personal at Jim Wade, M.D. That is not a pilot for a new medical series on NBC. Jim also sang with the Trinity Methodist choir in 1971 in its presentation of "Purpose." Was the first one to memorize the books of the Bible in order in Jewell Barfield's fourth grade Sunday School class.
Hobbies: snowskiing, waterskiing, golf, hiking, music, flying, scuba diving. Clubs: all work-related, no fun ones. Here's more of Jim's story: "I'm still playing the horn for fun. Thirty years later, my best friends are still my WHS buds."
Favorite WHS memories: miniskirts, cruising (DQ...Burger Chef...DQ...Burger Chef), ratracing, the river, two girls in the front seat of the VW and me with a stickshift, band trips, Marie's neck, the partying side of town.

---
Richard Kerby
Address: 2300 N. Patterson St., Apt. 3, Valdosta, Ga. 31601.
Phone: 912-245-2314 E-mail: not listed

The Kerby Files:
Spouse: none at present. Children: Elizabeth (16). Education: M.A. Occupation: environmental health specialist.
Hobbies: bicycling, running, hiking, reading, movies.

---
Laquita Joiner (Hooper)
Address: 2515 Gratis Rd., Monroe, Ga. 30656
Phone: 770-207-7780 E-mail: not listed

The Joiner Files:
Spouse: Tommy Hooper (28 years). Occupation: housewife. Education: some college. Children: Vickie, 24.
LaQuita was active in Pep Club and chorus. She says her family and friends are her life now.
Hobbies: floral arrangements, making wreaths, sewing, TV, reading, playing freecell.
Favorite WHS memories: small town life with friends you know most of your life, the lazy life.

---
Sandra Taylor (Turner)
Address: 55 Barrington Ridge Court, Sharpsburg, Ga. 30271.
Phone: 770-253-8625 E-mail: not listed.

The Taylor Files:
Spouse: Larry Turner, 20 years. Children: Freddie Randle 24, Teresa Turner, 18. Grandchildren: Jason Randle. Education: South Georgia College, 2 years. Occupation: operations analyst.
Sandra was a WHS band member and a former member of the homecoming court. When you see her hobbies, you may want to stand back.
Hobbies: weightlifting, exercising and listening to music. Clubs: birthday club at work.

---
Back to Bulldog '71 Mainpage
---
The Bulldog '71 Mailbox

Our site is
http://gonow.to/whs71


Easy to reach, Easy to remember!