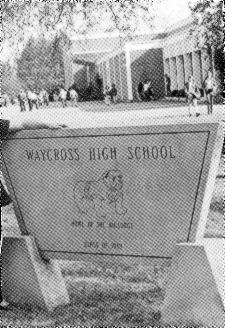 Legends of '71
---
Here are The Legends of '71 from Waycross High. Please send your vital statistics to us. If you're a '71 alum, you're a legend!




Mainpage | Alumni Legends I |Alumni Legends II |Alumni Legends IV |WHS '71 Teachers



Patricia Anderson (Stephenson)
Address: P.O. Box 147, Kenly, N.C. 28422 (but moving to Georgia soon)
Phone: 919-284-2750 E-mail: none listed.
Spouse: Steve, 28 years. Children: Lauren, 26, Tripp 24. Grandchildren: Stone, Peyton, Reagin.

The Anderson Files:
Occupation: domestic engineer (looking for employment that pays well, will relocate!). A former member of the WHS homecoming court and cheerleader, Patricia is another of the many Alice Street alumnae. She loves gardening and her grandchildren. As far as interesting facts about herself, Patricia says four words: "Been there, done that."
Favorite WHS memories: pep rallies, football games, friends.

---
Thomas (Tom) West
Address: 1500 Mires Rd., Mt. Juliet, Tn. 37122
Phone: 615-443-4800 E-mail: tomwest.1@home.com

The West Files:
Spouse: Kathryn, 24 years. Children: Lea, 22; Kristy, 20; Casey, 14. Grandchildren: Zachry, 1. Great grandchildren: you've got to be kidding!
Occupation: air traffic controller. Education: none, I attended Waycross High School.
Tommy, as we remember him, enjoys hunting and fishing and is a member of the Gladeville Hunting and Fishing Club. His love for aviation, which began during the WHS years, is still alive with his occupation.
Favorite WHS memories: I'm still alive! Tom also will never live down his guest appearance on "Wake Up, Waycross!," to discuss the band Hour Syn. Because of his tinkering in music promotion, Tom was referred to as both the Ernest Corbitt and Lawrence Welk of Waycross High in the same half-hour.

---
Lorraine Paige (Carson)
Address: 3152 NW 65 (city not given)
Phone: 305-691-7111 E-mail: none listed.

The Paige Files:
Spouse: Jimmy Walker, 2 years. Children: Necola T. Paige King (28); Maurice D. Paige (26). Grandchildren: Dante Paige, Derontee Paige, Evelyn Lopez.
Lorraine enjoys bowling and is a member of ASUE. She is active in her church as a mother and a member of the pastor's aid board.
Favorite WHS memories: My classmates and the alma mater.

---
Susan Flanders (Wiley)
Address: 3289 Rilman Road NW, Atlanta, GA 30327
Phone: 404-264-9079 E-mail: not listed.

The Flanders Files:
Spouse: John Thomas Wiley Jr. (27 years). Children: John (16), Drew (13). Occupation: former teacher. Education: M.Ed., Valdosta State.
Go back and scan your 1971 Turpicone. Susan is all over the ads as one of the prolific sales staffers. Today, her hobbies are reading, gardening and traveling. She is a member of The Landings Club at Skidaway Island, as well as PAWS/Catbackers, service organizations for The Westminster Schools in Atlanta. Susan and her family moved to Atlanta last August after living in Savannah for 10 years. Says Susan: "We like Atlanta, but we miss coastal living."
Favorite WHS memories: good friends and teachers.

---
Terry Altman
Address: 2438 Minnesota Ave., Waycross GA 31503
Phone: 912-283-4176 E-mail: tlaltman@wayxcable.com

The Altman Files:
Spouse: Ellen. Children: Will Conrad Altman (27), Amy Elizabeth Altman Jordan (26), Ashley Thomas Altman (25); stepchildren: James D. Bruner (25), Patrick Cole Conley (16). Grandchildren: Spencer Gordon, 7.
Occupation: director of technical services/deputy director, Hinesville Housing Authority. Education: Okefenokee Tech (OTI), conditioned air (state licensed conditioned air contractor).
Known as Teddy to the old Isabella Street and Trinity Methodist gang, Terry was president of FTA and a trombonist in the WHS band. He also earned his Eagle Scout award during the high school years. Teddy's mother was also a popular and familiar figure at a legendary downtown landmark.
Today, Terry's hobbies are camping, fishing, hunting and genealogy. He is a member of the Waycross Lions Club and Okefenokee Historical and Genealogical Society.

Favorite WHS memories: pep rallies at the Rec Center, band trips and Jell-O on the lunchroom walls (lest one ever forget the legendary Kirk Freeman's tacking of a Jell-O square on a bulletin board, which remained for three days).

---
Ceile Courtenay (Meyer)
Address: 5079 Riverhill Road, Marietta GA 30068
Phone: 770-565-3513 E-mail: none listed.

The Courtenay Files:
Spouse: Rick, 24 years. Children: Mary Courtenay Meyer, 18. Occupation: jewelry designer. Education: Georgia College, 1975.
Ceile was a freshman cheerleader and a four-year member of Art Club, as well as a French Club officer. She now enjoys traveling, running, hiking and antiquing.
Favorite WHS memories: Ceile doesn't list one, perhaps because she spent so much time during junior high fending off the perpetual aggravation of Jimmy Craft.

---
Abraham L. Jackson Jr.
Address: 4473 Flakes Mill Rd., Ellenwood GA 30294
Phone: (404) 244-0428 E-mail: none listed.

The Jackson Files:
Spouse: Vickie H. Jackson, 21 years. Children: Abraham L. Jackson III, 15; Tamara V. Jackson, senior at Hampton University. Occupation: United Auto Workers. Education: B.A., business administration; A.S., computer science.
Here's the man who was a second team All-Region basketball standout in his senior year and runner-up for student body president for 1971. Abe still loves basketball and adds old cars to his hobbies. He is a member of Omega Psi Phi Fraternity and says he's ready to retire.
Favorite WHS memories: missing the people (classmates).

---
Gale Wildes (Mallory)
Address: 1830 Co. Rd. 107, Prattville, AL 36066
Phone: 334-361-7535 E-mail: bandlady@aol.com

The Wildes Files:
Spouse: Ron Mallory, 23 years. Children: Georgia (20), Cleve (16). Education: M.A., music.
Occupation: band director at Prattville Jr. High. Known originally as Brenda Gale to her old friends at Isabella Street, Gale continued her great tradition as field commander (we used to call them drum majors or majorettes) of the WHS band into becoming a band director in public schools in Alabama. One of the most popular and gracious alums from 1971, Gale is a former Miss Waycross and competed in the Miss Georgia Pageant in Columbus.
Today, in addition to her music, her hobbies include baseball (her son), musical events (daughter), camping, tailgating and reading. She is a member of the Diamond Club (baseball boosters), Band Boosters, Fellowship Circle and Alabama Bandmasters Association. Says Gale: "I've had and I'm still having a wonderful life. My family is great. God blessed me with a wonderful husband and children. My career life has been very successful. I teach around 500 seventh and eighth grade band students a day, making it one of the largest junior high (maybe the largest) band programs in the state of Alabama.
Favorite WHS memories: friends, of course, like Patti and Anita...ball games, band, being majorette and drum major, pep rallies at the City Recretatoin Center, cruising around the Burger Chef and Dairy Queen (may we charge the latter for the continued advertising received from these plugs?).

---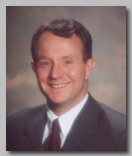 Donnie Dixon
Address: 103 Gloucester Road, Savannah GA 31410
Phone: 912-898-1222 E-mail: ddixon@omg-law.com

The Dixon Files:
Spouse: Betty, 21 years. Children: Kelly (18), Harry III (16). Occupation: attorney, Oliver Maner & Gray, LLP, Savannah. Education: A.B., history, Valdosta State; University of Georgia School of Law.
Mr. President was our leader as student body president through 1971 and delivered a brilliant job of leadership, even when he was not grabbing the daily news announcer by the shirt collar in the hall to demand to know where the soon-to-be-aborted homecoming theme was created. One had no doubt Donnie would be a leader in politics or the legal profession and he has done both well. He is now launching a law practice at the age of 47. Says Donnie: "I hope having been district attorney in Waycross from 1983-94 and U.S. attorney for the Southern District of Georgia from 1993-2001 will help." Donnie and Betty (Tonning Dixon) have a daughter headed to Tulane next year. Their son Harry will be a junior at Benedictine. Betty is an executive at Memorial Medical Center in Savannah.
Hobbies: running and reading.
Favorite WHS memories: too many to tell. Typical lawyer.

---
Brooks Nuss
Address: 1544 Richard Moore Rd., Dublin GA 31021
Phone: 478-984-5479 E-mail: none listed.

The Nuss Files:
Spouse: Carolyn, 12 years. Children: Jay Brooks, 25; Jennifer, 16; Brooks Jr., 6. Occupation: shop foreman, Pitts Toyota.
Brooks is President of the Indian Creek Hunting Club and a member of the Middle Georgia Gun Owners Association. As one can imagine, he enjoys hunting and shooting.

---
Nedra Price (Jenkins)
Address: 504 Likely St., Waycross GA and P.O. Box 14603, Gainesville FL 32604-4603
Phone: 352-371-4489 E-mail: nedra@gru.net | Nedra_Price@hotmail.com

The Price Files:
Spouse: Floyd Eugene Jenkins, 21 years. Children: Andre Price, 31; Nedra McCone Brown, 24; Floyd Eugene Jenkins Jr., 20. Grandchildren: Sterling Price, Shanria Price, Taylor Jenkins. Education: B.S., political science. Occupation: secretary/teacher.
Nedra was co-host of the first of only two Miss Waycross High School Pageants. She now lives in both Florida and Georgia. Says Nedra, who is deeply involved in church activities: "I am a highly religious person and love the Lord will all my heart, mind, body and soul. I forgive. Therefore, I am forgiven.
Hobbies: sewing, reading, Bible reading, drawing, painting. Clubs: Prayer Meeting Club and Cato Circle Club.
Favorite WHS memories: The first Miss Waycross High pageant, singing Lift Every Voice, singing with my best friends Selby Coward Hemmens and Joyce Golden Saddler and learning how to whistle with two fingers.

---
Otis Brinson
Address: 510 Hanover Dr., Waycrsos GA 31501
Phone: 912-283-4296 E-mail: not listed

The Brinson Files:
Spouse: Dorothy, 26 years. Children: Jennifer (21), Carmen (17). Education: college graduate. Occupation: Wal-Mart.
Otis could knock a baseball a mile and topped the .300 mark in both his junior and senior years. He was also a member of the 1971 Bulldog football team.

---
Winston Lee
Address: 7114 Washington Rd., West Palm Beach FL 33405.
Phone: 561-689-4670 E-mail:winston153@aol.com

The Lee Files:
Spouse: Alyson, six years. Children: Paul Winston III, 4; Erin Alexandra, 3 (going on 18); Ryals Morgan, 11 months. Education: University of Georgia. Occupation: landscape architect.
Hobbies: playing with blocks, fingerpainting, sand castles. Clubs: Chuck E. Cheese, Blue's Clues, Barney's Treehouse.
Yes, indeed, it has happened: Winston is now the doting father with three little ones to occupy his time with wife Alyson. Listen to his story: "Since our 20th reunion, my chest and waist sizes have reversed. I'm fluent in Teletubbies linguistics, have attained "expert" ranking in not only Chutes & Ladders and Candyland. Fully capable of changing diapers in the dark (very proud of this, was difficult learning).
Favorite WHS memories: a thousand small moments with friends, double dating with Bill Watkins, art class. Also, consolidation----making new friends and teammates, multicultural appreciation. Fernandina, last day of practice of last sport season, tubing the Satilla and claypits, pep rallies, listening to the Pep Band, red Cadillac, parking lot before classes, Tommy Dell.

---
Jimmy Sistar
Address: 1611 Seminole Springs Rd., Waycross GA 31501
Phone: 912-283-8972 E-mail: none listed

The Sistar Files:
Spouse: Leah, 25 years. Occupation: optometrist. Education: he has plenty but didn't tell us what it is. Children: Jay, 20.
Jimmy was destined for success after having been toughened up from being called "Jimmy Sister" repeatedly by Donald Carter in junior high. Jimmy made all of those band trips during his Waycross High years and has continued as a successful optometrist in Waycross.
Hobbies: wife and son, computers, herb gardening, music and Waycross Exchange Club (former president).
Favorite WHS memories: music.

---
David Prisant
Address: 4230 Cyndy Jo Circle, Macon GA 31216
Phone: 478-788-7582 E-mail: none listed.

The Prisant Files:
Spouse: Joyce, 22 years. Children: Jonathan, 17; Katherine, 15. Education: BBA, SCLA. Occupation: insurance claims.
David's family ran "that other" dairy drive-in place in town (which actually had the best milk shakes). You can see his leadership all over your 1971 Turpicone, for which David was editor. From 1972, until the school ceased to exist, the David Prisant Turpicone Award was presented annually to the outstanding Turpicone staffer.
Hobbies: computers.
Favorite WHS memories: theyearbook staff, senior Spanish Club, pep rallies, Miss Thomas (English), Big Steve's wrestling fixation, how we evolved as a class during turbulent times, Waycross vs. Ware County football.

---
Back to Bulldog '71 Mainpage
---
The Bulldog '71 Mailbox

Our site is
http://gonow.to/whs71


Easy to reach, Easy to remember!