Stefany Needel is a vivacious graduate of George Washington University, where she completed an M.A. program in four years. Not your average student. She also has $32,000 in her pocket.
Stefany won her purse the night of Sept. 7, 2000, after deliberating on a $125,000 question about an issue a 90-year-old woman was promoting when she walked across America and was twice arrested. Needel missed the question but came away with a huge respect from the audience.
In an exclusive interview with GSCC, Stefany talks about her two blockbuster Phone-a-Friends, sets the record straight on whether she thought Regis Philbin misled her on her $125K question and muses about young people and game shows.
---
GSCC: First off, I understand you may have had the most prolific set of Phone-a-Friends standing by in the history of this show, Rosie O'Donnell aside. You had Michael Shutterly, the former half-millionaire, and Dan Avila of Greed. First off, how did you make contact with them and decide on them? Dan said being a Phone-a-Friend was more nerve-wracking than going for $2.2 million, as he did. Also, were there any other "game show vets" waiting in the wings via phone?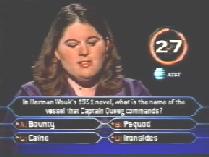 SN: My Phone-a-Friends did include Michael and Dan, as well as my sister, my boyfriend, and another friend named Mike Leger. As far as how I found (Michael and Dan), well, I have always been a huge Internet geek. :-) When I finally got the call for Millionaire, I was elated and immediately went to see what was online about the show. I stumbled upon the ABC Millionaire message board, and then from that found another online group of Millionaire fans, which happened to include Michael, Dan and Mike. I evaluated my own strong and weak areas of knowledge and found out those three filled gaps for me. Then, I just asked them nicely, and they accepted, of course with the caveat I needed to be able to trust my phone friends explicitly, and asked if I could really trust someone I had never met face to face! Michael and I actually spoke on the phone before he agreed to help me out.

GSCC: You're 22, just out of college, suddenly thrust into the nation's biggest television arena---Survivor notwithstanding. Emotionally, how did those 20 minutes, or so, affect you?

SN: It was an amazing experience emotionally for me. It had always been a dream of mine to appear on a game show, which I think comes from watching Jeopardy! at dinner with my family for as long as I can remember. I had actually tried out for College Jeopardy twice, but was not selected. So, just having the chance to realize that dream was a huge emotional high. I went through the whole experience trying to keep as positive an attitude as I could. Of course, I was disappointed with myself for missing the $125,000 question but having the month to think about what happened has dulled that disappointment somewhat.

GSCC: So your father was offered 1,000 camels in exchange for you? I can picture you turning 18 shades of red at that offer. Was there more to the story than what you had time to tell on Millionaire?


SN: To tell the truth, at the time the offer was made, I didn't know what was going on! I was about 16, and we were on a summer vacation to Israel, with a five-day side trip to Egypt. The market in Cairo is busy, crowded and bustling, and it was obvious we were tourists. A shop owner approached my father and engaged him in a dialogue, during which the offer of the camels was made. He treated it like the joke he thought it was, and came back to join the rest of the family. I asked what had happened, and he said the man had offered to give him 1,000 camels in exchange for me. I could not believe it---I was so shocked and embarrassed! But with time, it's become pretty funny!

GSCC: WWTBAM's audience is supposedly getting older, if we believe the demographic ratings. However, what's your perception of the way people in your peer group are perceiving the show, now that it's been on more than a year?

SN: Well, I think a lot of people my age think the show is pretty cool. The appeal of a million dollar prize pretty much spans demographic groups! As well, the show gives the viewers at home a thrill by letting them prove to themselves they could have a shot at the money. It's a very inclusive feeling that I think has a lot to do with the ratings success of the show. I also know the format of the show has been used in many presentations and campus events across the country, so that seems to be a pretty good sign it is accepted by the younger viewers as well.

GSCC: This is going to sound like Regis: I have to ask you the question.....at least from the way the show was edited, this is one of the few times a significant number of people felt Regis may well have goaded you down the wrong path on your $125,000 question by what he said about "picture Granny D, a 90-year-old woman...." Did you feel that way afterward and how much of the actual deliberation on that question did we see?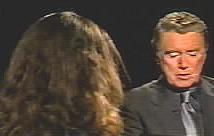 SN: I am glad you asked this, because I want to set the record straight. I did not know the answer to that question at all. Although Regis made a suggestion, it was my decision to accept his reasoning or make my own choice. I did not feel that he was goading me towards the Social Security answer. I went with the one that sounded logical---which is actually the wrong thing to do at that level of question---it's probably the one that sounds wrong. Pretty much all of the reasoning was shown.

GSCC: I know $32,000 is a nice chunk of change for a 22-year-old but how deflating was it to know you'd blown half of what you'd already won when you missed the $125K question?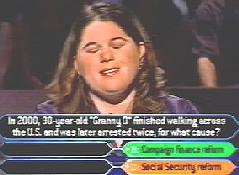 SN: It was deflating, but I was sort of playing the odds. I had a 50/50 shot at gaining $61,000 or losing $32,000. The potential for gain outweighed the potential for loss. I kicked myself for a few days after the show for not walking away, though. I didn't really think about how another $32,000 would have made a difference in my life until my time in the chair was over.

GSCC: Compare the intensity and pressure of sitting in that hotseat with that dramatic think music and the light show and the lengthy deliberations to something else in life you've experienced.

SN: I think it was one of the most intense feelings of my life, but it was perhaps a lot like the final presentation in the last class I needed to graduate. Standing in front of the class (albeit with my project group), presenting a project which had basically consumed our lives for the past semester. Being scared of messing up and having everyone deride me. But, then again, I almost got into a zone of calm once I got going in the presentation, as well as in the chair, since the situation I had imagined was finally a reality.

GSCC: At your age, you were a mere elementary school child when game shows went into a serious decline. Even with Millionaire's success, game shows are supposed to skew older. Why do you like them?


SN: Like I said earlier, my childhood dinners were often accompanied by Jeopardy! and I vividly remember Wheel of Fortune when you had to choose prizes rather than get money outright. Press Your Luck and Price Is Right were always favorites to watch on days off school. I don't know why I like them so much though---perhaps because I like to play along, perhaps because I like to see ordinary people win prizes that change their lives.

GSCC: Now, I have to ask you another question: people in your age bracket just went berserk over Survivor and, though a much smaller number, a healthy number of 18-34s have followed Big Brother. As a recent college graduate, what's your take on those two, both as to why they have attracted young people....and what you, personally, think of them?

SN: I didn't think Survivor was going to succeed when I first heard the concept. I didn't watch the first few episodes. But I kind of got hooked on the show halfway through (not to the point that I scheduled my Wednesday nights around it, but still...). I did watch the finale, and was disappointed that Rich won (I was rooting for Rudy, of the final 4), but admire Rich as a consummate strategist. Big Brother, on the other hand, I think it is stupid, and I don't watch it. I read the Salon.com summaries, but only to be informed because it is pop culture, and because the summaries are funny. I don't know why those shows appealed to the younger age group--- perhaps Survivor appealed to young people because they wanted to see to what level people would go for a million dollars, or to say to themselves that they could do it, too. I don't think Big Brother appeals to most people---it just isn't that interesting.

GSCC: What did you do on the night the show aired and who all have you heard from that you haven't heard from in ages? And what will you do with the money?



SN: I watched the show with my roommate and we had some champagne to celebrate. Actually, most of the phone calls went to my parents and not to me. I did get some e-mails from long lost friends and professors, which was really neat. I thought it was really exciting to hear from all these people who supported me and were proud of me. The next morning at work all the conversations with me basically consisted of, "Congratulations! You did a great job!" With the money, I bought a nice digital camera, and the rest is getting invested to try to grow it into a million or more!

GSCC: Then, you have to e-mail us a digital pic of you holding your check! Now that you have this experience under your belt, might you try for another game show down the road----and please don't say Survivor X in 2005.

SN: I have seriously considered giving Jeopardy! another try when I get my game show eligibility back in a year. It would probably be easier to get on the show through the regular contestant pool than through the college tryouts!

GSCC: I want you tackle one more thing as a recent college grad. For years, game shows have been labeled as bastions of "greed" and "mindlessness." For decades, critics have suggested people of high intelligence would not waste their time with them. As a young woman who just finished an M.A. program in a high-tech field in four years, what's your counter to that?



SN: I think you cannot condemn the entire group of game shows with the bad qualities of some. The original game shows truly did require a contestant to have a high level of intelligence in order to succeed (i.e.: $64,000 Question). I think that requirement went away for a while but it is slowly coming back. Some shows are about greed. Millionaire can be about greed, ego, and any other number of human characteristics, but it can also be a demonstration of intelligence, or barring that, a huge amount of trivial knowledge spanning many different subject areas. I think you would be hard-pressed to succeed on Millionaire or any other game show that was not entirely luck-based without some modicum of intelligence.

GSCC: And you demonstrated a top level of it on WWTBAM. Best of luck to you in your new career and don't trade yourself in on the camel market.

---
Back to Homepage
---
Allen Ludden
Art James
Wink Martindale
Tom Kennedy
Dennis James
George DeWitt
Jack Narz
Betty White
Jay Wolpert
Game $how Page
Newhoo Games
G.S. Knowledge
Game Show Themes
G.S. Software
GO Games
TV Trivia
Game Show Network