Game Show Scoreboard provides as many results of each day's TV game shows as are available or as the webmaster has time to compile.
Stories on undefeated champions, big winnings, or unusual personalities will still appear on the mainpage.
WARNING: Do not read this page if you have not seen these shows in your city on a given day and want to remain isolated from the finishes. Results will stay posted for one day, then archived at Game Show Scoreboard Archive.
---
Wednesday, November 22, 2000

To Tell the Truth: How about that: the guy who produces port-a-potties and his team totally stump the panel and audience.
Jeff Luckie is his name and he and his imposters rattled to the $5,000 jackpot.
Additional games and central characters: daytrader Toni Turner ($4,000), dating expert Felicia Rose Adler ($4,000), "drag queen of lean" Anthony Truly ($0).




Jeopardy!: The college kids have gone home and Bob Ryan picked up where he left off two weeks ago.
The CPA had a real battle from attorney James Rocchi before nailing his third straight win. The two were tied at $7,400 going into Final Jeopardy! and both were right. The answer: two of the people who witnessed his execution were John Wilkes Booth and Stonewall Jackson. Correct question: who is John Brown?
Rocchi bet $3,752 to go to $11,152 but Ryan wagered $6,000 to retain the crown with $13,400. His three-day total is up to $35,701.




Hollywood Squares: Mike Scanlon has the hat trick. His third straight win on Squares has him carrying the banner of Brooklyn for a potential undefeated title.
Scanlon defeated speech pathologist Stacy Braddocks of Morristown, N.J., Wednesday $3,500-$1,000.
However, Mike missed out on a trip to the Miami Film Festival when he disagreed with Dominic Chianese's answer of Bob Fosse as the only man to win a Tony in four different categories. Correct answer: Tommy Tune. Scanlon's three-day total: $37,689.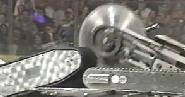 Battlebots: The night of two major semifinals saw Voltarc and Doall reign.
In the main event, Scott LaValley's Doall scored a knockout over Ronin in 1:24. Doall earns a shot at the super heavyweight title.
The middle bout saw Voltarc defeat Killerhurtz 8-1 with a series of rams.




Wheel of Fortune: The count is seven. A week and a half string of misses at the bonus puzzle.
Wednesday's victim was elementary school teacher Simone Williams of Van Nuys, Cal., who had only a five-letter "thing" but could only reveal two letters and missed JOKES.
Williams lost out on a minvan but won $13,400 in the regular match.




Family Feud: The Walker family demonstrated great basketball acumen but could not keep up with the Glasses, losing 310-176.
Bobbi Glass ripped off four number one answers in the Fast Money round to set up Dale with 176 points.
Dale only had to go to the second question to finish the top surveys when asked "name something you peel." His answer of banana scored 32 and a $10,000-winning 230 points.




Supermarket Sweep: Double Your Money Week of former champions continued as Michelle and Karen took the honors.
They combed the aisles for $1,748 in groceries to give them the lead for Friday's playoff of the week's top three teams to go for a second $5,000 payoff.
Randy West Line of the Day: "Latisha helps herself to a $20 megapack of Huggies, then she switches to Pampers, now she's going for Baby Wipes. She's putting together a baby care sampler."




Inquizition: Top guy for Wednesday's exam was Brad Siegel, who took the measure of Bob Liner in the final round, 17-14.
Among the questions for the $500: a sestina is a what? (poem) and what was an evolutionary hoax that took 40 years to define? (Piltdown Man).
Says the Inquizitor: "You've given the word ineptitude new meaning. Please leave!"




The Price Is Right: On Cloris Leachman's old show, a group opened by singing, "Phyllis....it sure isn't you!" Wednesday, it sure was Phyllis (Schoonover).
Phyllis (right)outbid her opponent for a minivan Showcase, coming within $3,737 of her actual retail price.
Total cash and prizes on the day for Schoonover came to $32,197.




Street Smarts: Both studio players picked different street contestants in the Wager of Death and both missed their predictions.
In the studio, Shirlee picked street player Virginia to answer "what is a carrot-top?" Virginia was correct about the term referring to a redhead. Shirlee predicted Virginia would miss and lost $1000 down to $400 but that total held up.
Contestant J.R.'s prediction of Melissa (above) to be correct cost him his entire $1,000. Melissa said a carrot-top was a "really bad hairdo."




Win Ben Stein's Money: Improvisational actor Ian Sokolov gave Ben a run for his money but could only tie Stein in the minute bonus round.
Sokolov matched Stein 4-4 on such questions as what is the company AOL is proposing a merger with? (Time Warner) and what was Magic Johnson's number with the L.A. Lakers? (32).
After winning $1,800 in the regular match, Sokolov won a $1,000 bonus for tying Stein and a day's total of $2,800.




History IQ: Champion Kevin won $1,600 in the regular match and then reeled off seven correct answers in Timeline IQ.
Among Kevin's correct answers: Warren Harding takes office (1921), stock market crashes (1929) and 1300 banks close (1930).
The $3,500 in the bonus game sent the New York police officer home with $5,100.
---
Back to Mainpage
---
Allen Ludden
Art James
Wink Martindale
Tom Kennedy
Dennis James
George DeWitt
Jack Narz
Betty White
Jay Wolpert
Game $how Page
Newhoo Games
G.S. Knowledge
Game Show Themes
G.S. Software
GO Games
TV Trivia
Game Show Network