Robin Carroll is enjoying a new career in North Georgia. She's also one of an elite total of fewer than 30 people who can call themselves Jeopardy grand champions.
Carroll won the 2000 Jeopardy Tournament of Champions in May before a roaring hometown crowd at the Atlanta Civic Center. Carroll is actually from Kennesaw, Ga., about an hour north of the big city. She rallied as a wild card to take the two-day finale. Robin relives the experience in this interview with Game Show Convention Center.
---
GSCC: It's nice to meet a fellow Georgian who has captured one of game shows' most respected championships. What's life been like for Robin since your victory in May?



RC: Well, I had my fifteen minutes of fame, and it was a lot of fun. I did a couple of newspaper interviews, as well as local radio and television. I even got recognized a couple of times! Nevertheless, as exciting as winning was, I was eager for things to get back to normal. I graduated from Kennesaw State University with a BA in English in May, and I recently started a new job as a technical writer for a company that does instructional design and training.

GSCC: In your wildest imagination, could you ever have pictured making the tournament, much less winning it all?

RC: Everyone who's ever watched the show dreams of winning big. I always felt if I got a chance to take the test, I could get on the show. Winning five games, and ultimately the tournament, was a combination of skill and luck. I was just hoping not to make a complete fool of myself in front of millions of people.

GSCC: Tell us a little of how you prepared to play Jeopardy the first time and how you may have changed that strategy during the tournament.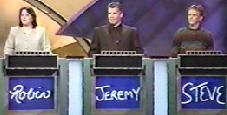 RC: I didn't study content at all before my first appearance. I did practice my buzzer technique with a Sanford Major Accent highlighter pen, which feels very similar to the real thing. Before the tournament, I bought a World Almanac, but I didn't have much time to study, due to my full-time course load at college and other responsibilities. I just tried to pay attention when I learned something new, such as the name of a composer, by reminding myself it could be a Jeopardy question.

GSCC: How much of an advantage or disadvantage did you see being a wild card qualifier into the final two rounds?

RC: Michael Rooney, who clobbered me in the quarterfinals, was an amazing player. I realized early in Double Jeopardy that I had no hope of winning, so I was going for the wild card. I was so happy to be in the semifinals that I felt very little pressure in that game. I felt I could lose in the semis and still be proud of my performance.
I want to say that all the other players were just fantastic. Any one of them could have won the whole thing. They were also incredibly nice people whom I am proud to count as my friends.

GSCC: You had the intangible of a huge hometown crowd cheering you on. That can be a bit intimidating, as well. How did that affect your play?



RC: Alex wouldn't let me forget it! He alluded to the home field advantage several times. At times, they made such a racket, I had to repeat my wager or category selection. I could see my husband, my three children, and several of my friends from the stage. I was happy to have them there, because I'd gone to L.A. alone to play my original games, so it was nice for them to finally see me play. It turned out I had around 4,000 friends I didn't know I had. Ultimately, I think it was an advantage.

GSCC: This game has a rich 36-year history. When did you become a fan?

RC: I watched the original show with Art Fleming from the time I was a little girl. I used to play sick sometimes to stay home and watch it! It was shot in New York then, and I lived in New Jersey. I couldn't wait to be eighteen so I could try out. Unfortunately, it was cancelled before I was old enough to be on it (there was no teen tournament in those days).

GSCC: How much were you and the other players aware of some of the jousting going on about the Millionaire vs. Jeopardy questions which led to the media creating the Alex vs. Regis "feud?"



RC: :The Atlanta Journal-Constitution ran an article on the front of the Living section on the first day of the tournament (we played on a Saturday and Sunday in March). Alex had made an appearance at the University of Georgia the day before, and made a few jokes about Who Wants to Be a Millionaire, and we all saw the paper that morning. It also came up a lot in the question and answer segments Alex does with the live audience during breaks. We all took it for what it was, a joke that the media blew out of proportion.

GSCC: How have family, friends, and your community reacted since your victory? How have the winnings served to change your life financially?

RC: People have been incredibly positive about it. One of the nicest things has been seeing how excited other people get about it. They are genuinely happy for me. We were able to pay off some debts and buy a new house. The remainder will probably go into my children's college funds.

GSCC: What advice would you give anyone who wants to give a stab at auditioning for Jeopardy in the future?

RC: Go for it! Playing Jeopardy -- the game itself, not just winning -- is the most fun I've ever had in my life. If you've ever dreamed of being on, you owe it to yourself to try. As for preparation, I'd say study the game. The clues nearly always contain a hint to the answer, and if you learn to look for that, the answers will come to you. On a more practical level, wear comfortable shoes.

GSCC: A few former T of C winners have proposed an all-time tournament for the show's 40th anniversary in 2004. How would you feel about that?



RC: I'd be there in a heartbeat! I believe that also marks the 20th anniversary of the revived show as hosted by Alex, so it's a natural time to have a sort of super tournament. It would be fun to meet the other champions and see who's the best of the best. The saddest part of all this for me is that I can never play the game again (except with a waiver for a special event). So I'd welcome a chance to do it again, even for charity.

GSCC: I have to ask you a question I'm asking a lot of game show champions at the moment: what's your feeling on the trend in prime time toward game operas, such as Survivor and Big Brother and their impending clones and how do you see them affecting traditional question-and-answer games?

RC: I don't much care for either. They place carefully pre-selected personality types in an artificial, highly controlled situation. It has nothing to do with reality. On the other hand, a lot of people enjoy them for that very reason. There will always be a place for traditional quiz shows. People like to challenge themselves by playing along at home. Short of pitching a tent in the backyard and inviting two dozen total strangers, you can't really play along with Survivor.

GSCC: Well spoken. So what's ahead in the weeks and months to come for our reigning Jeopardy Tournament of Champions winner?

RC: I'm looking for a good tax accountant! Seriously, I'm just learning the ropes at my new job, decorating my house, and planning a vacation for next summer. In other words, living an ordinary life. No shoe endorsements, no appearances on Entertainment Tonight. My husband is thinking about trying out for Millionaire. Two champs in the family -- now that would be something!

---
Back to Homepage
---
Allen Ludden
Art James
Wink Martindale
Tom Kennedy
Dennis James
George DeWitt
Jack Narz
Betty White
Jay Wolpert
Game $how Page
Newhoo Games
G.S. Knowledge
Game Show Themes
G.S. Software
GO Games
TV Trivia
Game Show Network