Week of Sept. 4-10, 2000

Big Money of the Week - Rob McDaniel, Who Wants to Be a Millionaire, $125,000.



Best Television Moments - 1. San Antonio teacher Karen Stillman winning Audi and nearly $60,000 in cash/prizes on Wheel of Fortune season opener. 2. Outside megaphone telling Big Brother housemates of pending dollar offer to leave. 3. One robot completely decapitating another in the middle bout on Battlebots .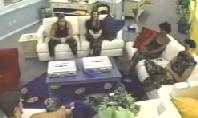 Worst Television Moments - 1. Offer of $50,000 for one of the Big Brother gang to walk. That had to be the worst constructed and executed temptation offers in game show history. 2. The entire Jimmy Kimmel farewell show on Win Ben Stein's Money. True, this is not a family game show on any night but constant profanity and body parts references became really, really old when edited together in the Kimmel finale. 3. The entire Friday night BB. Had to be one of the dullest half-hours of television in ages.


Best Moves of the Week - 1. New twists to Wheel of Fortune. Harry Friedman's changes follow Tom Kennedy's classic rules for altering a game show: do it subtly. None of the changes destroy the concept of the game, they just provide a nice twist. 2. Comedy Central already renewing Battlebots for 26 weeks. It may be one of the silliest games in the history of the genre but it is entertaining and one cannot argue with the strong cable rating for the premiere. 3. Rosie O'Donnell giving Pontiac Aztecs to five of the Survivor runners-up after winning a game against Rich Hatch on Rosie's show.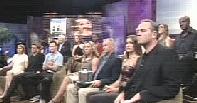 Worst Moves of the Week - 1. Spreading the Survivor gang on every show you can imagine. Regardless of the hoopla, one senses a great danger of quick overxposure with these people. 2. Big Brother allowing a player to attend the Emmys. The producers are so desperate to bump up the sagging ratings, they don't even realize how they're destroying the concept of their own game.



Hard Luck Award - Mort Kamins, Jeopardy! Oh, don't fret for Mort. He won more than $27,000 in two days but he appeared to have all the tools for a run at an undefeated title and just ran out of gas on day three Tuesday.



Best Pictures - 1. Shelton Basham's Bill Goldberg impression when he won his way to the hotseat on WWTBAM. 2. Pat Sajak getting a monster hug from Stillman after she won her jackpot on Wheel.

Names of the Week - 1. Tim Lightbody, Who Wants to Be a Millionaire. 2. Arizona Lee, The Price Is Right.

Nickname of the Week - Killerhurtz, Wednesday night Battlebots entry.

Question of the Week - Among suffixes, .mx is Mexico, .jp is Japan and, in March 2000, .ps was assigned to this country. While actually a Final Jeopardy answer, this was a real challenge and none of the players had the correct question, "what is Palestine?"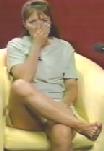 Hello Award - Karen Fowler, Big Brother. "The first night back in Columbus, I sat up late and went online. I went to some of the 'bad' websites, which was not a very good idea. I didn't sleep well that night." Karen? Hello??? Did she possibly think she would receive a ticker-tape parade for using network television to trash her husband night after night while he sat home with only two token opportunities to respond?

Flashback Award - To Tell the Truth, GSN. For a heartwearming segment about a 17-year-old girl (who would now be 45) who was saved from a fire by her dog.



Best Lines - 1. Eddie McGee, Big Brother: "Either the ratings are so bad and so low and the show sucks and we're nobodies....or the show's a hit and they're going to be waiting outside with limos for all of us." 2. Regis Philbin, WWTBAM: "This isn't Who Wants to Be a Thousandaire." 3. Randy West, Supermarket Sweep: "Look! Joe is grabbing gobs of gobblers." 4. George Boswell, Big Brother: "If you've got a low stress thing, or heart problems, you can't do this deal." 5. Bob Barker, The Price Is Right: "That group in the corner must have been treated by my doctor." 6. Pat Sajak, Wheel of Fortune, on winner Stillman: "Where were teachers like you when I was in school? I had Old Lady Williams, who had to be 75 years old when she was born." 7. Richard Hatch, Rosie O'Donnell: "I've never acted before." 8. Boswell/Cassandra Waldon, BB: (GB) "Jefferson High School in my hometown sure could have used that $50,000." (CW) "George, forget Jefferson High School. You need that money a lot more than Jefferson High does." 9. Rudy Boesch, The Early Show: "When this is finally all over, I still won't probably have much to do with these people. They're just not my kind of folks." 10. Jean Jordan, GSCC: "I wish I'd waited for Survivor II."

Strongest Comments - 1. Jean Jordan, GSCC: "They're desperate," on the Big Brother producers attempting to pull so many stunts to liven an excruciatingly dull show. 2. Boswell, BB: "Close it up, Josh, I'm not taking it. Teresa, I hope I've done the right thing," refusing the $50,000 offer to leave the house.


Best Story and Best Phone-a-Friend Roster -Stefany Needel, WWTBAM, for story about her father being offered 1,000 camels for Stefany on a trip through the Middle East and for having both half-millionaire Michael Shutterly and Greed legend Dan Avila among her five phone friends.

Boo Award - 1. CBS/Edemol, for allowing Brittany Petros to pass the information she did to Josh Souza Wednesday night. That clearly skewed the concept of the game by giving outside-the-house information and cleanly giving the appearance of sheer desperation.



Players of the Week - Stefany Needel, WWTBAM, and Karen Stillman, Wheel of Fortune. Stefany didn't win the biggest money of the week but, at 22, appeared to be the best-prepared of the younger contestants who have made the hotseat. She adroitly chose two game show veterans she'd found through the Web as phone friends, rather than frontloading with college pals who haven't been around long enough to know enough. As for Stillman, she was an excellent Wheel player and did what was necessary to get the show's 18th syndicated season off to a hot start.

Back to Homepage


Allen Ludden
Art James
Wink Martindale
Tom Kennedy
Dennis James
George DeWitt
Jack Narz
Betty White
Jay Wolpert
Game $how Page
Newhoo Games
G.S. Knowledge
Game Show Themes
G.S. Software
GO Games
TV Trivia


Game Show Network