Week of Aug. 21-27, 2000

Big Money of the Week - Richard Hatch, Survivor, $1,000,000.



Best Television Moments - 1. Rudy Boesch admitting he made his own fatal mistake which cost him $1 million on Survivor. 2. Boesch saying on Survivor: the Reunion his fellow castaways are still not the kind of people with whom he'd hang around. 3. Sue Hawk getting the boot on Survivor.



Worst Television Moments - 1. Hawk's sore-loser diatribe at Kelly Wiglesworth on Survivor. Some critics have labeled that the best TV moment of the season. If you ask us, Hawk may be the most abrasive, detestable woman in the history of television. Kelly was hardly an angel but to call Sue a jerk is an act of kindness. 2. Insincere handshake between Hawk and Wiglesworth on the live reunion show. I'm sure they're both planning to visit each other next summer. 3. Hatch winning Survivor.



Best Moves of the Week - 1. Last year's Ultimate Fan Malcolm Bondon getting a spot on To Tell the Truth this fall. 2. TV Land, for replaying the championship game of Ultimate Fan Search.



Worst Moves of the Week - 1. Relegating Jeff Probst to two minutes on the entire Survivor reunion. Excuse me. Didn't he bring the show to the dance, regardless of the mixed reviews of his emcee work. 2. Unintentional hilarity of Probst trying to build suspense over which final survivor would win a 2000 Pontiac Aztek amidst some of the most hateful tension ever on network television.



Hard Luck Award - Gretchen Cordy, who deserved a better fate on Survivor and is apparently lagging behind most of the other castaways in endorsement opportunities. Some athletic and outdoor company is really missing the boat in not using Gretchen as a spokesperson.



Best Pictures - 1. Opening shot on Survivor reunion show with Hatch minus beard. 2. Cami Hough after winning $45,630 Cadillac on The Price Is Right. 3. Slo-mo closeup replay of Boesch taking his hand off the pole in Immunity Challenge.

Names of the Week - 1. Erin Moran McCormack, WWTBAM. This one had half the U.S. speculating if this was the former Happy Days regular. 2. Doug Arm, WWTBAM.

&nbspNicknames of the Week - 1. Richard the Snake and Kelly the Rat, by Sue (The Slime) Hawk, Survivor. 2. Stormin' Norman, for Norman Sterner on WWTBAM. 3. The Most Hated Man in America, Bryant Gumbel's quoted name for Hatch on Survivor: the Reunion.



Mom Babe of the Week - Cary Hummel, mother of Greg Hummel, on WWTBAM Sunday night. Greg is the second player in a week who has a blonde Mom, about whom Regis adroitly said, "She looks like your date."

Question of the Week - Julie Chen, The Early Show, for Karen Fowler: "Are you going to divorce your husband?"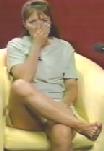 Dodge Ball/Twilight Zone Awards - Fowler, for answering Chen, "I don't know." The next day, Fowler told The Indianapolis Star she was moving to California without Tom, saying she couldn't understand how the country and her hometown were being so hateful to her and siding with her husband. Excuse me. This show and Survivor have proved ad nauseum the country may watch----but does not exactly warm to people who are abrasive to or trash others and then pass it off as, "This is who I am."

Flashback Award - What's My Line?, GSN. For a terrific color Mystery Guest segment with Ann-Margret from a 1970 Wally Bruner edition this week.



Best Lines - 1. Boesch, Survivor: "I'd just like to let everybody know how dumb I feel after the mistake I made yesterday. It was a fatal one." 2. Wiglesworth, Survivor: "There's been some moral low points for me that I'm trying to leave behind." 3. Hawk, Survivor, to Wiglesworth: "What goes around comes around. You will not get my vote and I hope that's the vote to lose you the million dollars." 4. Hatch, Survivor: "I think I played as ethically as humanly possible." 5. Wiglesworth, Survivor: "If we were voting for the sweetest or the nicest, probably neither of us would be here." 6. Gervase Peterson, Survivor, on Hawk's tirade: "That's what in my town is called a sore loser." 7. Karen Fowler, Indianapolis Star: "I've been treated as an outcast in my own hometown. I don't understand." 8. Cassandra Waldon, BB: "No matter how you look at it...it's still a game." 9. Rob Gardner, WWTBAM, on other Fastest Finger players: "Maybe they'll be more exciting on TV than I am." 10. Jamie Hammond, WWTBAM, on question about the number of times a day Islamic faithful are required to pray: "I know they're required to pray to Mecca. I would think five times a day is enough." 11. Hammond/Regis Philbin, WWTBAM, on art question: (RP) "Is black art? Is grey art? What is art, Jamie? (JH) "People will think they're watching PBS." 12. Hammond's mother, WWTBAM, on what Jamie should do with his $64,000: "I think he should help pay for his wedding." 13. Regis/Cary Hummel, WWTBAM: (R) "What do you do, Mom?" (CH) "I'm a nervous wreck right now." 14. Greg Hummel, WWTBAM, to mother Cary's boyfriend Mike: "My mom might break up with you if you're not right." (He wasn't). 15. Randy West, Supermarket Sweep: "Oh my! Health and beauty aids just may improve Beth Ann."

Strongest Comments - First 4 from Sue Hawk, Survivor: 1. "Kelly, if I passed you on the street and you were dying of thirst, I would not give you a drink of water."

2. "I'm not a very openly nice person." 3. "Rich, you are a very arrogant, overly pompous human being." 4. "I hope this ends the way Mother Nature intended it to be---for the Snake to eat the Rat." 5. Chris Ruth, WWTBAM, on comparing his Jeopardy experience to WWTBAM: "This is totally different. This is a nightmare! It's a good nightmare."

A-Men Award - Howard Rosenberg, The Los Angeles Times: "No one can dispute how CBS News has prostituted itself while relentlessly promoting this series (Survivor) as if it were a meaningful news story instead of a phenomenon tha the media themselves have helped inflate with their own gaseious psychobabble."

Boo Awards - 1. Hawk, for arguably the most hateful tirade in the history of television. Anyone who ever joins the popular chorus about hate speech in this country would do well to view a videotape of Sue's closing arguments to the jury. My only question: how much did the producers egg it on? 2. Wiglesworth, for dodging the media's questions about her outstanding felony charge of credit card theft in North Carolina. 3. Hatch, just for winning the thing, period. This boo goes along with some of the most profuse booing in night spots across the U.S. when his deciding vote was announced.



Player of the Week - Rudy Boesch, Survivor. Rudy may have uttered some remarks during the course of the 13 weeks we felt were insulting and inappropriate----but the guy was good as his word and with a game in which very little integrity was ever invoked, he didn't lie. That's not something any of the other four finalists can claim. Plus, he took responsibility for his own fatal mistake. You had an open liar, a winner who honestly believes he was an ethical player and the sorest loser this side of Tonya Harding. Rudy was head and shoulders above them.

Back to Homepage


Allen Ludden
Art James
Wink Martindale
Tom Kennedy
Dennis James
George DeWitt
Jack Narz
Betty White
Jay Wolpert
Game $how Page
Newhoo Games
G.S. Knowledge
Game Show Themes
G.S. Software
GO Games
TV Trivia


Game Show Network