Week of Aug. 14-20, 2000

Big Money of the Week - Phil Gibbons, Who Wants to Be a Millionaire, $500,000.



Best Television Moments - 1. Joyce Randolph's appearance on Ultimate Fan Search drawing a huge roar. 2. Dramatic comeback of Gibbons on WWTBAM after burning all his Lifelines by $8,000. 3. Kiss of Karen and Tom Fowler after her banishment from Big Brother. 4. Frank Tangredi winning Fastest Finger question on food.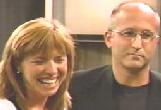 Worst Television Moments - 1. Fowler telling her housemates everything was okay with Tom Fowler's appearance. Somehow, one sensed a bit of insincerity. 2. Profane-laden confrontation between Kelly Wiglesworth and Sue Hawk on Survivor. Some may call this compelling television. From this corner, it appeared to be one of the most vulgar, nauseating scenes ever on a network program. Another compelling reason why this show should not be an early-evening broadcast.



Best Moves of the Week - 1. America voting Karen out of the Big Brother house. Long past time to put her out of her misery. 2. Having Malcolm Bondon pass the torch (the golden remote control) to Paul Goebel for winning Ultimate Fan Search .



Worst Moves of the Week - 1. Decision for Bryant Gumbel to host Survivor: the Reunion. Does CBS not have enough faith in Jeff Probst as an interviewer? Or is getting Gumbel a short-lived bounce on The Early Show so important? 2. Brittany Petros dying the male housemates' hair bizarre shades. Brittany's beginning to wear a bit thin, as is the entire show.

Leftover Greed Trivia - Chuck Woolery saying on Ultimate Fan Search he "still works for Dick Clark."



Hard Luck Award - Tangredi, who gave a real shot at a $125,000 question on Pulitzer Prize winning authors and just didn't couldn't pull it out.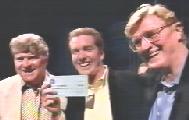 Best Pictures - 1. Family shot of Gibbons with father, uncle and $500,000 check. 2. George Boswell with green hair. 3. Celebration and confetti of Goebel winning UFS.

Names of the Week - 1. Francesca Salomone, WWTBAM. 2. Escondera Estebans, The Price Is Right.

&nbspNicknames of the Week - 1. Lonesome Paul Goebel, Ultimate Fan Search. 2. Hollywood, for Jamie Kern on Big Brother. 3. David (My Aunt's Not Hazel) Burke, Ultimate Fan Search. 4. The Heater, for Gibbons' phone friend Chris Heath.

Question of the Week - WWTBAM, for $1 million question on the original name of the Sony Walkman in the U.S. You had to be really perceptive to know it was the Soundabout.

Flashback Award - To Tell the Truth, GSN. This one not so much for featuring Sir Edmund Hillary as a central character, but for those Marlboro logos and for Bud Collyer awarding each team of challengers a case of Marlboros. Cigarette companies were major sponsors of Goodson-Todman shows in the '50s and '60s.



Mystery Guest Award - Tom O'Brien, former WWTBAM $500,000 winner for surprise appearance in the audience of "The Ultimate Lucy Game Show," a stage game show at a Lucy fan convention in L.A.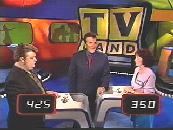 Best Lines - 1. Karen Fowler, BB: "I got the experience. I got what I wanted. Now, I want to be a mom." 2. Wiglesworth, Survivor: "It's time to get dirty." 3. Chuck Woolery, Ultimate Fan Search: "I met Tom Selleck once and he never signed anything." 4. Bob Barker, The Price Is Right, on audience noise: "I think there's another show going on over there." 5. Randy West, Supermarket Sweep: "You don't have to be Popeye to be attracted to olive oil." 6. Howard Lieb, UFS: "You're not in the Green Room with these guys, Chuck. They know everything." 7. Karen Fowler, BB: "I beg of you to banish me." 8. Frank Tangredi, WWTBAM: "Food questions! I knew this would come in handy someday." 9. Regis Philbin, WWTBAM, on Gibbons: "This is not a guy who watches Dawson's Creek but he knows about Russian imperialism." 10. Richard Hatch, Survivor: "There was no such thing as any Tagi tribe or Pagong or anyone else." 11. Rudy Boesch, Survivor, on Hatch: "When we're done with tis, I'm gonna shake his hand and hope I never see him again." 12. Eddie McGee, Big Brother: "From now on, I don't want anybody asking how anybody voted or why. I haven't told anyone up until now and I don't want anybody to ask any more."



Strongest Comments - 1. Boesch, Survivor: "If they betray me, I'll get even with 'em. It's a game---but it's worth $1 million." 2. Sean Kenniff, Survivor: "There's not an honest bone in the bunch."



Wishful Thinking Awards - 1. Hatch, Survivor: "I would hope the viewers who watched the show can see someone who worked for what he wants and has done it as ethically as he can." 2. Kenniff, Survivor: "It's gonna be an uphill battle for me...but I'm winning this thing...the whole show."

Boo Award - CBS News, for continuing this charade of Julie Chen, news anchor, presiding over the prime time equivalent of The Sally Jessy Raphael Show on Big Brother.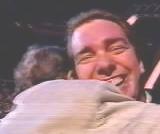 Player of the Week - Gibbons, WWTBAM. You couldn't help but get behind this guy who appeared to be all but finished at $8,000 making the game's biggest comeback ever. He had one of the winningest personalities in the history of the show and you can read more about his $500,000 experience at Phil Gibbons Interview.

Back to Homepage


Allen Ludden
Art James
Wink Martindale
Tom Kennedy
Dennis James
George DeWitt
Jack Narz
Betty White
Jay Wolpert
Game $how Page
Newhoo Games
G.S. Knowledge
Game Show Themes
G.S. Software
GO Games
TV Trivia


Game Show Network