Lonesome Paul Goebel is a man who knows his TV, loves his TV and will tell you point-blank what he thinks about his TV. He knew his TV well enough to become the second unofficial "king of TV" during the summer.
The evening of August 20, 2000, Goebel walked the final mile of a three-week battle, defeating entertainment writer David Burke on the final question of TV Land's Ultimate Fan Search to become "TV's Ultimate Fan." A standup comedian and commercial actor, Goebel reflects back on the tournament, the game itself, his tastes in television and how you can help pick the shows he airs on the weekly Ultimate Fan Hour in this interview with Game Show Convention Center.
---
GSCC: You won what had to be a grueling competition to outlast 35 other players, plus the regional tryouts to become "TV's Ultimate Fan." What did you find was the most difficult part of the tournament?


PG: Because it's a TV show, there is a lot of stopping & starting and waiting around. The hardest part was staying relaxed during the dead time, especially when you're standing there on the set looking at the other scores and trying NOT to think about the outcome.

GSCC: Howard Lieb, one of your other two finalists, said it was intimidating to be in the Green Room with the other players because "they know everything." David Burke, your runner-up, really pushed you to the final question and you had to come from behind in at least one other match in the tournament. From your perspective, how tough was the competition?

PG: The first two rounds were no sweat, as I'm sure you saw, but in the semifinals, I realized I had to really concentrate if I wanted to win. Luckily, I was prepared for the final round, cause David was some stiff competition. Overall, it was less about the questions and more about playing the game.

GSCC: As a lifelong TV trivia buff who is kicking myself for not at least going to a tryout location, I know a lot of this information is just data one just knows over a period of years. However, to what degree did you actually prepare for this competition?



PG: Not much. I was an online finalist and the questions for that quiz were very hard. I decided cramming would have been counterproductive, since it would have gotten me stressed out for sure. I just concentrated on being in the moment, paying attention and staying relaxed. However, I did watch a lot more Nick at Nite.

GSCC: As I watched the tournament, I said after the second round, you would likely be the winner because you were at least appeared on the surface to be calmer and more collected than any other player in the Lightning Round. How accurate is that assessment?


PG: I'd have to say, dead on. It was clear to me from the beginning that every contestant knew their TV trivia, and this was going to be all about how you play the game. Also, my calm and collected demeanor helped to "psyche out" some of the opponents. I can't be sure, but some of the other players recognized me from some of my TV commercials and that may have made them a little more nervous.

GSCC: Good point about how you play this game. For years, Jeopardy! could totally flip-flop in Final Jeopardy! Does Ultimate Fan Search necessarily reward the player with the broadest knowledge over the entire game, or the player who is the best in the final round?

PG: I say they are both important, because, as you saw, if you don't have a nice high score going into the final round, you really have no shot. On the flip side, it is really easy to get flustered and lose some important points, so you can't discount either aspect.

GSCC: Over the years, what are the television series you have best enjoyed? What is the area of your TV knowledge which is your strongest suit?

PG: My favorite sitcom is Bosom Buddies and my favorite drama is St. Elsewhere. Both great shows with incredible writing and superb casts. My knowledge covers pretty much everything, but being in my 30s, I'm stronger with shows from the '70s, '80s & '90s.

GSCC: In November, you take over for Malcolm Bondon as host of the weekly Ultimate Fan Hour. Tell us a little of how that process works. What will the taping schedule be for those shows?


PG: Well, I'm currently picking the shows I want to feature. Eventually, we will shoot the openings and bumpers for each episode and then TV Land will schedule them according to their commitments. I'm also in the process of promoting the hour by appearing on various TV and radio shows.

GSCC: You get the one thing which would make me feel like a kid in a candy store: a chance to pick shows for that hour from TV Land's library. You've established a website to let viewers vote on some of their choices. Tell us about that. With a side note that I am voting for "Bachelor Father," "The Jack Benny Program," "Rawhide," "The Millionaire" and "The Lineup (San Francisco Beat)."

PG: Since I am an actor and a stand-up comedian, I have been working on a website of my own for a while. Now it's finally up and so, in addition to promoting myself, I'm using it as a way to find out what TV fans would like to see me show. Just visit thekingoftv.com and it's all there. You can also find out where I'm appearing, how to order my CD and click on my pics for that week's TV viewings

. GSCC: How many of the selections will come from your own choices and how many from what the viewers tell you they want to see?


PG: Well, I have plenty of shows I have been longing to see (Barney Miller, Charlie's Angels, Welcome Back, Kotter) but 52 hours is a lot of TV, so there will be a good chunk available for the other fans. For instance, I have no fond memories of She's the Sheriff, whatsoever, but I'm getting a lot of requests for it, so, who am I to argue?

GSCC: Other than the paycheck, my friend Pat Carroll's memories aren't that fond from that show, either. :-) TV Land is a network which has been built very successfully on slick, contemporary, satirical marketing of classic television. The vast majority of these are quite family-friendly shows. In your opinion, will today's hits---many of which have language and values which are anything but family-friendly---be as fondly remembered 10-15 years down the road as the shows from TV's golden era?

PG: Well, you have to remember that in 10-15 years, TV fans will be very different also. It's hard to tell what shows will live on and what won't, but quality is quality and if a show is great now it's going to be great in 15 years. I can see Seinfeld being a huge hit with young people in the year 2020, because it is still going to be funny.

GSCC: As for the Ultimate Fan Search game itself, the tournament was a welcome respite for traditional game show fans from the bombardment of the Survivor/Big Brother blitz of summer. What's your take on these, as we call them, "game operas," as opposed to the hard quiz or question-answer format?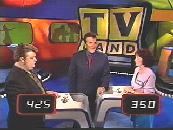 PG: Well, I am pretty opinionated about what I watch, and I am the first to admit that some of the stuff I watch is crap, while there are plenty of quality shows that I'm not interested in. I was completely hooked on Survivor. Regardless of how "real" it really was, they got me and I loved every minute of it. I also liked Big Brother, but for the complete opposite reason. It was so bad I couldn't miss a minute. It's the same reason I watch Dark Shadows every morning, too bad to miss. As for Who Wants to be a Millionaire, I can't stand it, and the fact that it's on four nights a week is complete BS. It saddens me that a great network like ABC will base their entire regular schedule around a game show.

GSCC: In your opinion, how would UFS work as a weekly show? We've had a substantial number of viewers who are clamoring for it.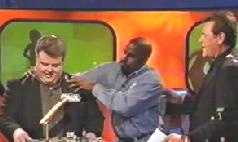 PG: The truth is, there is only a small percantage of TV viewers who would appreciate a weekly version of a show like that. However, if it can work on any network, TV Land is the place. I, myself, have been pitching a game/talk/variety show all about classic TV. The main problem is where to air it? If TV Land ever considers more original programming, I think a TV trivia game show is a must. As long as Chuck Woolery doesn't host...oops, did I say that out loud?


---
Back to Homepage
---
Allen Ludden
Art James
Wink Martindale
Tom Kennedy
Dennis James
George DeWitt
Jack Narz
Betty White
Jay Wolpert
Game $how Page