Malcolm Bondon has been the affable envy of virtually every TV buff in America the past year. Bondon won the 1999 and inaugural Ultimate Fan Search on TV Land to earn the title of "TV's Ultimate Fan."
In the past year, Malcolm has been a weekly visitor in your home, bringing you a Friday afternoon hour of classic shows from the TV Land library. Everything from the long-forgotten Hong Kong with the almost-forgotten Rod Taylor to an upcoming back-to-back hour of Bachelor Father and The Jack Benny Program has been part of Malcolm's weekly offerings.
Bondon also served as head judge for the three-week 2000 Ultimate Fan Search tournament. However, his game show days are not over. Malcolm will appear as the central character on an upcoming edition of the new To Tell the Truth. He talks about his joyful year in this two-part interview with Game Show Convention Center.
---
GSCC: Even though you've passed the torch to Lonesome Paul Goebel as the new Ultimate Fan, you've had a terrific year. To TV trivia buffs, having access to that TV Land library to program an hour a week would be like Christmas coming every day. Tell us what it was like for you?



MB: It has been unbelievable! When I was first told I would receive a list of shows available, I expected something like a three-page list. To my surprise, the programming list was a large binder! When I saw the shows that were available, I became the proverbial kid in the candy store.

GSCC: What were most favorite of the shows you've aired during the past year?

MB: I really enjoyed the Jack Benny I chose with guest star Dan Duryea. He was primarily known as a heavy in films of the '40s and '50s and it was cool to see him poke fun at his image. That episode also contained many hilarious asides to the audience, a device used in later shows like It's Garry Shandling's Show.
The episode of the James Earl Jones show Pros & Cons I selected was pretty good too. I loved the comic banter between Richard Crenna and guest star Cecilia Hart (the real life wife of James Earl Jones). She played the ex-wife of Crenna's character. When I choose episodes I have never seen, I pick them because of a specific guest star.
I selected the episode of Bracken's World (NBC, late '60s) because Shelley Fabares made an appearance. The series was an interesting peek behind the scenes at a big movie studio. An added bonus was a future star also appeared in the episode. He had a non-speaking role as one of the young actors at the studio. His name was Tom Selleck.



GSCC: You just blew away the competition in the finals last year. TV trivia buffs are often unfairly characterized as "vats of useless knowledge," when---in fact---they are only reflecting the dominant medium of our society. How did you develop your interest in TV?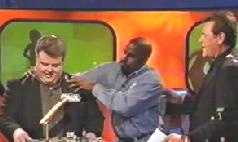 MB: I've always been interested in the history of TV. Even when I was a kid, I was more than just a casual viewer. I noticed things like: the number of doors Max goes through during the opening credits of Get Smart. I also remember acting out the opening credit sequence of The Wild, Wild West when I was about six. When I was 13, I also bought my first copy of The Complete Directory to Prime Time Shows by Brooks & Marsh. Since then, I have purchased several books about TV. Books about Saturday Morning TV, game shows, The Emmys, etc. I also own several books dedicated to specific shows, such as: Get Smart, The Fugitive, Green Acres, The Rockford Files, I Dream of Jeannie, Party of Five, The Twilight Zone and numerous others. I also have a TV Guide collection which dates back to 1981.

GSCC: The Ultimate Fan Search tournament was expanded on-air to three weeks with a few changes in the game over last year. Contrast for us, if you will, the competition from last year to this year when you were head judge.



MB: As opposed to the field of 36 contestants that competed on TV this year, there were only 16 of us last year who made it to L.A. (15 regional winners and one online winner). The morning of our second day in L.A., we all took a 35 question written TV trivia test. There were some real tough ones on the test. For example, for which TV station did Mindy McConnell work? Answer: KTNS.
The producers then graded the tests while the contestants hung out in the green room. We were then individually interviewed by the producers. I was asked questions like: what is one of your earliest TV memories? Answer: at around the age of six, I was exposed to The Three Stooges for the first time. My life has never been the same since...LOL.
Later that evening, nine from the field of 16 were notified we had moved on to the semis. They split us into three groups of three to compete in a scaled down version of last year's telecast. The three winners of those games ended up on the final telecast. During my quest for the Ultimate Fan title, my play followed the same pattern.
In my first game at the regional competition in Troy, Michigan, I sort of stumbled out of the gate and had to find my rhythm. I did the same thing in both the L.A. semis and in the televised final.

GSCC: A few changes were made over last year's game which improved things. I had the great pleasure of interviewing Barbara Eden in 1986 in a live TV hour in Wilmington, N.C. I found her to be a most gracious lady. However, she was miscast last year in the round where they had her playing against the contestants. It can be a bit embarrassing when performers don't remember minutiae about their own shows and Barbara was not as up to snuff on things which had happened on Jeannie. How did you feel about the changes this year, where different celebrities came out to ask a single question?

MB: I felt it would have been better if Barbara Eden had read us questions about her career instead of competing against us. Both my best friend Gary (pronounced like Jerry) and my girlfriend Janet said the same thing. It was strange that they did it that way this year because I didn't say a word. I also liked the use of the in-studio celebs and the stars who appeared on videotape to read questions. However, I wish they had stuck with one of the rules from last year. During the regular part of the game, when we gave a correct response, we were allowed to change categories. This year, when a category was started, all of the questions in it were read before a new category would be started. I felt with this rule, players didn't always have control of the board. Overall, I think the producers are making steps in the right direction.

GSCC: What was a real kick for me was to see The Beav again and the audience roar for Joyce Randolph was enormous. And I've always been a huge fan of Marla Gibbs. It had to be a kick to rub elbows with the classic stars. Also, what were your impressions of the emcee who's moving into his second quarter-century as a host, Chuck Woolery?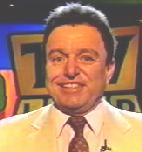 MB: I posed for photos and talked briefly with Jerry Mathers and Joyce Randolph. I blew my photo op with Marla Gibbs, though. She consented to pose for a picture with me, but I got tied up with something else and missed my opportunity. We had a chance to chat briefly in the make-up room.

She offered me words of encouragement when I expressed interest in pursuing a career in the entertainment industry. Because Adam West was needed almost as soon as he arrived at the studio, I was unable to meet him. I met Ed Marinaro briefly in the hallway. I asked him if there was a chance for a reunion movie of one of my favorite shows, Sisters. He smiled and said no, he didn't think so...DOH!
As for Chuck Woolery, I found him to be a very down to earth and charming person. Whenever there was a break in filming, Chuck would always take the time to answer questions from the studio audience.



In Part 2, Malcolm discusses his upcoming segment
on To Tell the Truth, his view on expanding
Ultimate Fan Search to a weekly series and his
advice on future players trying out for the TV Land game.

---
Back to Homepage
---
Allen Ludden
Art James
Wink Martindale
Tom Kennedy
Dennis James
George DeWitt
Jack Narz
Betty White
Jay Wolpert
Game $how Page
Newhoo Games
G.S. Knowledge
Game Show Themes
G.S. Software
GO Games
TV Trivia
Game Show Network