---
Cockroach Raiser Schulson Joins J! Elite

He's a Chattanooga cockroach raiser and is now believed to be the second-biggest winner in the history of Jeopardy!
Michael Schulson not only smashed the two-day kids record of Allyson Lieberman of Michigan, he rolled up a winning total of $32,800 with a major wager in Final Jeopardy! during Wednesday's Holiday Kids Week special.
Schulson is only the seventh player to top $30,000 in a single game in series history and is believed to be the second all-time scorer below the $34,000 posted by Jerome Vered in 1992 in the adult version.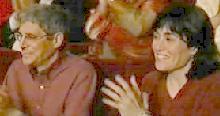 Michael's parents were tense as he was locked into a tight match with young Tiffany Wen, leading $17,400-$15,400 going into the finale in the category of Animals: scientists named an anticoagulant found in the saliva of a species of this animal "Draculin." Correct question (which all three players nailed): what is a bat?
Wen's conservative bet of $2,500 gave her $17,900. Schulson let out a huge victory fist when he revealed his $15,400 wager to take him to an elite spot in Jeopardy! history.

---
Adesina Koiki Captures 2MD Trophy
Adesina Koiki has earned the name Sports Prodigy. The Syracuse University freshman is now the king of ESPN's 2-Minute Drill.
The 18-year-old Koiki succeeded two-time champion Willy Gibson by defeating the tournament's high scorer Michael (Laz) Lazarus 26-22 in the early Christmas morning championship game.
Koiki capitalized on an uncharacteristic lapse by Lazarus in their first half. Laz missed all four of panelist Jackie Joyner-Kersee's questions and never really recovered. Koiki---who earned a bonus Circuit City shopping spree in his half---ended the opening stanza with a 13-9 lead.

Lazarus rallied to go ahead 22-13 in the second half but knew only a dramatic collapse by Koiki would save him. Koiki sewed up the game in 1:05 of the second round on a question about Charles Smith.
Adesina was presented the 2-Minute Drill championship trophy and another $50,000, bringing his cash winnings to $170,000----a new record for the series, which is being canceled by ESPN---though Mayne told Koiki, "You'll be invited back for a fourth tournament if there is one."
However, in what had to be a budget-saving, nearly-impossible Question of Great Significance, Koiki proved he was human with his first QGS miss (though even MENSA members would have been at a loss on this one).

Koiki, an expert on the 1996 NCAA men's basketball championship tournament, was asked three killers on the Kentucky-Syracuse championship game. He missed the first one he tried: which Syracuse player had the most turnovers in the game? Adesina said John Wallace was the most mistake-prone but Lazarus Sims had the dubious honor. The other untried ones: the number of turnovers Syracuse had in the finals (24) and the number of total points from each bench (Kentucky 26, Syracuse 0).
Including his assorted ESPN sports fantasy trips and two Circuit City shopping sprees, Koiki's total winnings are estimated at $183,500. He ends as the third-biggest winner in the history of cable television game shows behind only Gibson and all-time champ Robin Grover of History IQ.

---
Jimmy Garrett Recalls Lucy and Game Shows
Jimmy Garrett is a name which is not synonymous with child actors in the same vein with Jerry Mathers, Ricky and David Nelson or Shelley Fabares.
Yet, Garrett was---as he often jokingly refers---"the Jan Brady of Lucy sons," as he played Lucille Ball's TV son Jerry Carmichael from 1962-65 on The Lucy Show.
As a past celebrity captain for The Ultimate Lucy Game Show at the annual "Loving Lucy" conventions, Garrett knows firsthand the amount of trivia viewers retain. He also was a firsthand witness to Miss Ball's intense love for television game shows.
In an exclusive interview with TVgameshows.net, Garrett relates some anecdotes about Lucy's love for games and about his own life with Lucy and a personal connection with game shows in recent years.

Inside the Games with Jimmy Garrett

---
British Comics Corral £250,000 for Charity
British Unplanned improvisational stars David Baddiel and Frank Skinner have scooped £250,000 for charity in a celebrity edition of the U.K.'s Who Wants To Be a Millionaire?
Skinner, pictued, and Baddiel were within sight of the £1 million jackpot but decided to play it safe. They were not sure which flower is the symbol for Japan.
West Bromwich Albion fan Skinner correctly thought the answer was "chrysanthemum" but the pair opted not to risk their £250,000 winnings. The pair decided to split the money between the Catholic Children's Society and the Imperial Cancer Research Fund.
The two-part celebrity special also starred three other British celebrity pairs: father and daughter pair Jimmy and Liza Tarbuck, Hollyoaks stars Julie Peasgood and Kate McEnery, and Neil and Christine Hamilton.
---
Anne Robinson's Linkletters of the Week:


1. "I urge you! Free the fruitcake....exchange the idiot!" 2. "No men to help you and you scored an abysmal $6,500." 3. "Heidi, are you a member of MENSA? So every year you pay this organization money just as long as they continue to tell you you're bright?" 4. "Whose brain is clearly away in a manger?" 5. "Mark, time for you to wind up and march off." 6. "Who is the bump on your yule log who is not giving us Christmas cheer?" 7. "Zandrea, what's the brightest quality you need to be a lawyer...not that you are one?" 8. "Are you a very scared, wannabe lawyer who wants to scare off your competition?" 9. "Heidi, star of MENSA, are you afraid of men?" 10. Sal, what can I say? It's ho-ho-home."



Wednesday's Top Winner:
Michael Schulson, Jeopardy!
$32,800


On behalf of all of us (actually, us is only me) at TVgameshows.net, my sincere wish is for you and your family to enjoy your most joyous Christmas season ever and a wonderful new year. We are all blessed just to be here this year....and as our old favorite Garry Moore used to urge us: be very kind to each other, particularly in this season. If you have Game Show Network and are not rolling the VCR overnight (from 4-6 a.m. ET---you figure for your time zone), give yourself an added Christmas treat and do it the next two nights.
(Continued)

---
TVGAMESHOWS.NET
Dec. 17-23, 2001
Alex Danielson Racks Up on Young Stars Week Squares
Young Stars Week has turned into a young bonanza for young Alex Danielson in the week before a new year is young on Hollywood Squares.
Danielson, an 11-year-old, defeated Michi Nitahara $7,000-$1,000 in Wednesday's main game. The dollars won by both players are converted into savings bonds this week.
He then added another $5,000 bond when he agreed with Cole and Dylan Sprouse's answer of Bart as the only of three Simpsons characters not named for creator Matt Groenig.
In addition, Alex picked up a $4,600 Secret Square, which included a trip, and took home total winnings of $16,648.

---
Ross, Koiki Share Dec. 17-23 Player of the Week Honors
The man who is the newest "first" for Wheel of Fortune and the most amazing 18-year-old game show contestant of the year have been tabbed as TVgameshows.net's co-Players of the Week for Dec. 17-23.
Doug Ross of Hollywood Hills, Cal., was selected for becoming the first $100,000 winner in the new bonus game format of Wheel. Wednesday night, Ross won $100K for identifying A HAPPY MEAL in the end game. His total winnings---all in cash---of $113,800 were the show's largest single-night cash earnings.
Adesina Koiki, the sports genius who seems to have no era which has bypassed his memory banks, extended his total to $120,000 on the ESPN quiz Thursday night and faces tough L.A. sports producer Michael Lazarus for the title tonight (actually at 12:30 a.m. Tuesday) and a shot at a possible additional $100K.
Honorable mentions go to Lazarus, for making the championship game; $250,000 Who Wants to Be a Millionaire winner David Clayton; and Friday's $30,000-plus Jeopardy! champion Robert Heiler.

Inside the Games with Doug Ross of Wheel

---
They're Lost in Bolivia Ratings Bomb Until Next Sunday
Fred Agee of Trenton, Tn., and his retired police officer partner Bob are out to a substantial lead in both distance and strategy after Sunday night's return of NBC's Lost.
Somewhat buried opposite the NFL runovers and 60 Minutes in the Sunday-at-7 (ET/PT) slot, Agee and Bob (perhaps we will have the remainder of the last names next week---even a Google search has proved largely futile) negotiated the first vehicle after being deposited in what was discovered to be the wide open spaces of Bolivia.
Though they ended up having to pay 10 times their assumed fee of $3, the men moved into a substantial jumpstart over the combo of Donna and Veronica and the pairing of Dan and Laurie.
The race for the Statue of Liberty and the $200,000-plus an SUV top prizes ends next Sunday (7-9 p.m., ET/PT) with back-to-back one-hour episodes.
Sunday night's edition set a Nielsen record, of sorts, for the Peacock Network. Aside from five of last season's Saturday night XFL games, Lost has become the lowest-rated prime time entertainment program in the history of NBC. The race game could only muster a 2.2/5 in the fast national Nielsens.

---
Jeopardy! Thursday Runner-up Earns Good Sport Award
Any game show contestant who has a self-deprecating sense of humor is a crown jewel, particularly in the midst of blowing a lead on Jeopardy!
Thursday, publications consultant Bara Blender from M.I.T. lost the lead and the title on a tough Final Jeopardy! answer. However, she was described in TVgameshows.net's recap as "a nice, pretty lady whose name sounds like an appliance on sale at Wal-Mart for Christmas."
Blender earned the occasionally-offered TVgameshows.net Good Sport Award for an unsolicited e-mail reaction Friday.
"With a name like mine, I've heard plenty of appliance references," wrote Blender. "A memorable one from my childhood is being asked if I was going to marry Tony Toaster when I grew up -- but at least people don't forget my name!"

---
Syndicated Ratings Down Across Board for Dec. 3-9
Tradition suggests syndicated TV ratings take a slight dive after the November sweeps end. Tradition holds in 2001.
For the week ending Dec. 9, ratings were down or flat across-the-board for every returning game show in the Nielsen syndicated standings.
Wheel of Fortune (9.6) and Jeopardy! were down slightly from the same week last year. The biggest dives: Street Smarts, down 29 per cent (1.2); Hollywood Squares and Change of Heart, both down 22 per cent (2.9 and 1.4, respectively).
Family Feud (2.2) was the only game to maintain year-ago numbers. Syndicated Nielsens for the week of Dec. 3-9 are offered in the lefthand column of TVgameshows.net.

---
ABC Planning to Send You to The Chair for 13 Weeks
Fox Family's short-lived Paranoia ostensibly amplified contestants' heartbeats when they went for big-money bonus questions. ABC, with an executive who is publicly souring on one quiz show, is going to try to take tension one step further.
ABC has agreed to 13 episodes of The Chair, a hard quiz in which keeping one's cool helps one stay in the game. Eight players battle to keep their heartrate under control in a qualifying round to go into the "heartseat."
The heartseat is connected to a heart monitor and the contestants win money for each correct answer, as long as their heartrates do not exceed a predetermined limit during a pre-show three-hour rest period.
According to a report from Variety, ABC will screen players for drug and alcohol use. Julie Christie (not the Oscar-winning actress of the '60s) is executive producer. The show is being developed for the international market, as well. ABC will likely use The Chair as a summer show (though some speculation has it beginning in the spring), either in an hour or half-hour version.

---
Phil Gurin Gets Ready to Name That Tune for Revival
The major question is...are we going to hear Tommy Oliver and the orchestra play Twisted Sister's "We're Not Gonna Take It Any More?"
Weakest Link and Twenty-One co-executive producer Phil Gurin has bought the U.S. rights to Name That Tune from long-time rightsholder Sandy Frank.
Variety is reporting the classic musical game, most prominently hosted by George DeWitt in the '50s and Tom Kennedy in the '70s, is being resuscitated as a "game-variety" format which would incorporate live performances (a la I've Heard That Song!).
The type of music would be structured to the targeted demo. Gurin went after Tune and another reality classic he bought from Frank, You Asked for It after the hot rating for the classic clips from The Carol Burnett Show on CBS two weeks ago.
VH-1's attempt to revive the format as Name That Video fizzled earlier this year after an early ratings flurry. Fifty episodes were produced but the music network aired all 50 shows in five weeks.
---

Do not scroll below this point if you have not watched the day's shows and wish to be isolated from the outcomes. Encore showings will be noted where known.

In order to enjoy some holiday activities with family, we will be on the road and some shows will not be covered during New Year's Week.
WEDNESDAY HIGHLIGHTS
Wheel of Fortune: Miguel Santanias may have had the most jolly laugh on the show in months. Even though he failed to win the bonus puzzle, he had everyone laughing.
Miguel had most of his puzzle uncovered but could not come up with that Christmas and Thanksgiving treat, GLAZED HAM.
The miss cost him an additional $25,000. However, no one's fretting. Santanias took away a Christmas week total of $20,520---which will be matched for the American Red Cross Disaster Relief Fund by King WOrld.



Smush: Contestant Daryl had to win the show's first-ever tiebreaker to reach the Money Round after a 21-21 deadlock and she came close to sweeping the top jackpot.
With the base words ARCHIE BUNKER, Daryl came away with four of the five smushes, including: full-figured actress who starred in Cheers and Veronica's Closet (ARCHIE BUNKERstie Alley) and teen actor who played Mike Seaver on Growing Pains (ARCHIE BUNKERk Cameron).
However, her one miss: giant curved metal monument set on the Mississippi. Daryl said Missouri ARCHIE BUNKER. Correct smush: Gateway ARCHIE BUNKER. Nonetheless, she has a post-Christmas haul of $4,000.

ALSO WEDNESDAY: Encores: Supermarket Sweep, Shop 'til You Drop, Family Feud, Street Smarts, To Tell the Truth, the canceled Card Sharks and The Price Is Right.
---
PAGE TWO HEADLINES
Traders of the Games
Tom Hourigan's Games Across the Water
John Guedel Dies in L.A.
Price 30th Anni Ticket Info Told
Prime Time Ratings Continue Slide
Fear Factor Set for NBC Monday Run
GSN Feels the Need for Greed
Save Regis Campaign Continues
Survivor 3 Roster Shrinks
---
E-mail:
steve@tvgameshows.net
---

This Week in Game Show History



50 Years Ago This Week....
George Jessel is the mystery guest on What's My Line?

---
45 Years Ago....
To Tell the Truth airs its second show live on Christmas night with Dick Van Dyke among the panelists.

---
40 Years Ago....
Bud Collyer bites the dust with ABC's Number Please.

---
35 Years Ago....
Password returns to the CBS "nighttime" lineup Sundays at 5. Jerry Mathers is chosen over Barry Gordon and Eddie Hodges for a "chaperoned dream date" to London on Dating Game.

---
30 Years Ago....
Eighth anniversary of Let's Make a Deal.

---
25 Years Ago....
Joey Bishop and Joan Collins play Break the Bank.

---
20 Years Ago....
Veronica Hamel of Hill Street Blues plays Battlestars.

---
15 Years Ago....
Tom Kennedy launches his final network game, NBC's Wordplay---a remake of Call My Bluff.

---
10 Years Ago....
Repeats of Pat Finn's Joker's Wild begin on USA.

---
Two Years Ago....
Dick Clark has to return to the studio during New Year's week to tape additional episodes of Winning Lines after CBS rejects the first two shows.

---
One Year Ago....
ABC repeats its most recent celebrity Who Wants to Be a Millionaire as a "pop-up video" edition.
C O L U M N
S T E V E
U.K. G A M E S
A R C H I V E
E - M A I L
L E G E N D S
---

Game Shows
I've Heard That Song!

Name That Tune
Name That Video
Video Village
WWTBAM

Weakest Link
The Runner
2-Minute Drill
Beg, Borrow & B.S.
Fear Factor
Lost
The Mole
Lost
Survivor

Amazing Race

Murder in Small Town X

Big Brother

Let's Make a Deal

No Boundaries

Ultimate Reality

Greed

Family Feud

To Tell the Truth

Password

Password Plus

Super Password

Supermarket Sweep

Wheel of Fortune

Jeopardy

Rock 'n' Roll Jeopardy

Hollywood Showdown

Hollywood Squares

Price Is Right (CBS)

Price Is Right Site

What's My Line?

Win Ben Stein's Money

Pyramid
Battlebots

Match Game (Pearson)

Match Game Page

Sale of the Century
Tattletales

Whew!

Concentration

Concentration II

All-Star Blitz

Double Dare

Press Your Luck

College Bowl

Joker's Wild

Don't Forget Your Toothbrush

Whose Line Is It Anyway?

Newlywed Game

Inquizition

To Say the Least

50 Grand Slam

Wordplay

Break the Bank

To Tell the Truth (1990-91)

Make Me Laugh

Fun House

Change of Heart
---
Emcees
Allen Ludden
Bill Cullen
Todd Newton
Art James
Chuck Woolery
Wink Martindale
Tom Kennedy
Dennis James
George DeWitt
Jack Narz
Marc Summers
Frank Nicotero
---
Other Pages
Chris Lambert's Original Game $how Page
Sports Game Show Page
The Game Show Site
Al Martella's Game Show Archive
Game Show Losers
Contestant Search
Game Show Central
Home Game Page
G.S. Knowledge
Game Show Themes
Game Show Taglines
---
You are visitor

to
Game Show Convention Center
Counter by aaddzz.com
---