Phil Gibbons is the blueprint for a telegenic game show contestant. An Irish spirit, a winning smile, a little bit of a risk-taker, a father and an uncle who could be America's relatives---and a half-million dollars worth of success.
Gibbons, in sales for a West Coast online company, looked like a sure goner after burning up all of his Lifelines on Who Wants to Be a Millionaire Aug. 15, 2000, at the $8,000 level. The spirit and the smile never left and six questions later, with a huge audience roar behind him, Gibbons won $500,000 and became only the 15th U.S. player ever to see a $1 million question. Gibbons relived his magic evening in this exclusive interview with The Game Show Convention Center just before dashing off to his 25-year high school reunion.

---
GSCC: You managed to just get in the back door on the Sunday night telecast on the 13th with so many players missing the middle-tier questions opening up more Fastest Finger questions. Now that you're a half-millionaire, any thoughts of "what if" some of those people had managed to stay in the chair longer?



PG: Many thoughts of "what if," the most immediate the fact that the fourth contestant answered a question on the human genome project in the studio in a matter of seconds. We had already been told that we were into the last segment, a polite way of saying we were not going to make it. I'm sure if the fourth contestant took a long time with the $8,000 question, the show would have ended.
Instead, they asked him a question about the "Godfather" films which he polled the audience on. They gave him the wrong answer, opening the door for a rare fourth Fastest Finger question. But the what-ifs work both ways. In the third playoff, I was second by about five tenths of a second, so it was bad luck that I didn't make it in the third playoff.

GSCC: Your father and your uncle have become the most popular relatives since David (Twenty-One) Legler's father and Kim Hunt's mother. What were their pulsebeats like....and how much car-shopping have you done for your Dad?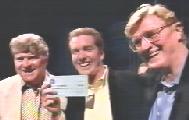 PG: People asked me if my Dad and uncle enjoyed themselves, actually I think they had a better time than I did. They got to take part and didn't have to go through some of the agony and, yes, my Dad already has a new car, a 1984 Cadillac Allante convertible. It was a car that was within the family and, after this ordeal, the family members involved agreed he should have it.

GSCC: In your wildest imagination, what did you think were the chances of you becoming a half-millionaire?



PG: This will sound bizarre but not only did I have no doubt that I would get on the show, I also had an almost certain feeling that I would do very well. I love trivia and have an almost frightening ability to retain the most arcane but useless knowledge. However, once I actually was on the show the first day and watched four people going out very quickly, I really lost a lot of confidence.

GSCC: When you ran out of Lifelines at $8,000, how far did you realistically think you would go?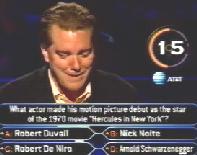 PG: This may also sound a little strange, but my feeling was that this was almost a good thing, that I couldn't have that much difficulty continuously with all of the questions, that it was only a matter of time before I turned it around. I really just concentrated on the questions one at a time, focusing first on trying to survive and get to $32,000, then on hanging in as long as I could. For me the easiest questions were the $250K and $500K questions, so in a sense I was right, the questions got easier and ultimately balanced out.

GSCC: What made you guess Paula Cole as the singer of the Dawson's Creek theme at $16,000? That was an obvious shot in the dark...and if it's any consolation, I have never seen that show one time, either. And how did you go about choosing your Lifelines?



PG: A little inside scoop for you and your readers...I'm not sure why the show was edited this way but in the studio the Paula Cole question was the $32,000 question. I am absolutely certain of this and if you have a tape of the show you can see that I react a lot more when I got this question right than when I answer the question about the Pulitzer Prize that was edited in as the $32,000 question.
My logic while taping was really a reach that ultimately turned out to be wrong. I reasoned (using a lot more time than was evident) that of the four singers, Morrisette, Amos, McLachlan and Cole, Cole was the only one I had never heard of and would probably have recorded a TV theme song as an unknown musician. I had heard the song "I Don't Want to Wait" many times, I just didn't know that was the theme to Dawson's Creek.
By the way, most of my friends laughed at me as Paula Cole won two Grammys, including Best New Artist of the Year. Not only was this a wild guess, but it was a wild guess for 32 grand. A "what-if" in reverse. I also went out and bought her CD and have played it nonstop since the show.

GSCC: We're going to have to pursue later why the question value was changed on the air. How did you prepare for the show? Out of curiosity, what were the age ranges of your five phone friends? It appears younger people, particularly college students, sometimes mistakenly only pick their peers----rather than people with a broad range of experiences.



PG: I read the New York Times Almanac and the Science Question and Answer Book. While I am sure the show pulled at least a couple of questions from the Science book (including Joe Trela's famous computer bug question), it did me no good whatsoever.
My Lifelines were my mother (Shakespeare, literature, British Royal history), my brother-in-law and sister (classical music, children's books), two friends who were doctors (science, biology, medicine and the Philadelphia Flyers)----Chris Heath a/k/a The Heater (trash TV, movies of the '60s, '70s, '80s) and the battleship Bismarck of lifelines, the vice chancellor of the University of Missouri, who assembled a professor of African American Studies, the school chaplain, a professor of history, a professor of chemistry, physics, two students who knew hip hop and urban music and even two students who had appeared on Millionaire.

GSCC: That sounds like an army! I asked the previous half-millionaire Joe Kelleher this just a couple of weeks ago. What is going through your mind emotionally and mentally and through your body physically when you suddenly realize, this is it, I'm going for $1 million? You had to wait on a commercial break. That had to last almost forever.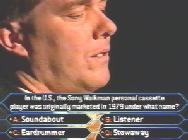 PG: I had to wait a lot longer than that. The boom camera broke after the $500,000 question. Elated, already having been seated for over an hour, I sat as these technicians who had been sitting around drinking coffee all day frantically tried to fix the camera. Regis was haranguing them to "hurry up, the kid's hot, he's on a roll, let's go, let's go." I sat there for over ten minutes while they flailed away, looking at the screen which showed me at $500,000, laughing and shaking my head. It was a very surreal scene but after getting a Russian history question that was pretty obscure and almost giving the wrong answer and really struggling early, I was utterly euphoric.
I also had a sense that I was going to get the million dollar question and it would be one of the questions I had prepared for. Didn't work out that way. And frankly, I was a little disappointed with the question, not because I didn't get it, but because I've seen some very inventive questions and mine wasn't all that interesting.

GSCC: You're the 15th person to see the big question. Obviously, you've seen a lot of the millionaires and half-millionaires previously. How would you rate your stack of questions in difficulty compared to some of the other big winners?

PG: I needed the audience's help at $1000, used the 50-50 at $4,000---where I almost gave the wrong answer twice, and needed a phone-a-friend at $8,000. My sense was my questions were some of the toughest early questions I've ever seen. However, a friend of mine's 13-year-old daughter knew the question about limelight right off the bat, so who knows, maybe I'm not as clever as I think I am. I think there is a lot of luck involved in this show as no question is really all that tough if you have a general knowledge of the subject being discussed.

GSCC: People all over the U.S. have commented about how they just plainly enjoyed your style of playing the game. You used solid logic in eliminating choices; yet, you seemed to be having just a plain old good time playing the game and appeared to be more surprised than anyone else at how far you went. How did you deal with the think music, in particular, as well as the audience and all of the nerve-wracking aspects of the game?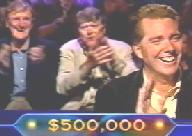 PG: My whole life I've had a real good time asking and being asked trivia questions of all sorts. I wasn't really even distracted by all of the hoopla, I just focused on Regis and the questions. I also had the good fortune of being carried over. I don't think I would have done as well if I had to sit through a lot of the show, win the fastest finger and then get up and think. I got a night to compose myself and the next day the pressure was really off. The Fastest Finger is by far the toughest thing about the show, much harder in the studio than on TV at home.

GSCC: It's been a year since Millionaire arrived. Do you see the show as still an American phenomenon, or is it reaching a niche that has some genuine staying power?

PG: If ABC was smart they would cut the show back, not add additional nights. I think it will last for a while, but four nights a week will really wear it out. I also think that the questions are getting harder and the contestants are not doing as well, making the show a little tedious. Just one man's opinion----the ratings are still hangin' in.

GSCC: Phil, how do you feel about Survivor and Big Brother and some of the coming clones which are taking game shows into a direction we've never previously seen? Do those shows have more or less staying power than Millionaire?

PG: Havent seen these shows and they don't really interest me. Not really even qualified to comment.

GSCC: Finally, how does this new-found wealth change your life, both financially and personally?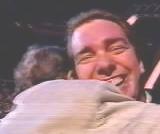 PG: Eight months ago, I started to try and get on the show, hopefully win a lot of money and quit the consulting job that I wasn't very happy with. I spent time in my youth as a freelance writer and have dabbled in that for years and would love to do it again. Four months ago, I got an internet-related job that I like very much, allows me to travel and I'm paid pretty well. So, that aspect of things hasn't changed. At some point, I will probably go back to freelance writing without the immediate pressure of having to pay the bills. I have made plans to go to a friend's annual Super Bowl weekend fishing trip, something I've never done, based on the expense.
The one thing that has changed forever is the fact that I went on Jeopardy 12 years ago, lost by two dollars to a five-time undefeated champion in a very disappointing and unpleasant experience in many ways. Whenever people comment on my bizarre talent for remembering trivia, they always say, "You should go on Jeopardy." I always have to recount my experience, which still is painful twelve years later. Now I have a much happier ending.

---
Back to Homepage
---
Allen Ludden
Art James
Wink Martindale
Tom Kennedy
Dennis James
George DeWitt
Jack Narz
Betty White
Jay Wolpert
Game $how Page
Newhoo Games
G.S. Knowledge
Game Show Themes
G.S. Software
GO Games
TV Trivia
Game Show Network