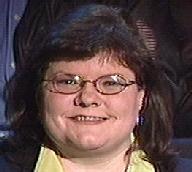 Donna White is part of a breeding ground for game show winners at a Church of Christ-supported college in the small town of Henderson, Tn. In the spring of 2000, Freed-Hardeman University communications major Annie Gordon won a trip to Singapore on The Price Is Right. A year later, FHU's dean of campus life took her turn in the quiz spotlight.
Donna won $250,000 on Who Wants to Be a Millionaire April 12, 2001, only two nights after the all-time quiz show record was set by Kevin Olmstead. A lifelong information and trivia buff, White took center stage with Regis Philbin and was treated to a huge viewing party in FHU's Loyd Auditorium for her big evening.
In this exclusive interview with Game Show Convention Center, Donna relates her experiences in New York and a surprising occurrence during her big jackpot question.
---
GSCC: As someone who's in the same business as you, Donna, I'll ask the obligatory college freshman question: did you attend Freed-Hardeman as a student and what was your major in college?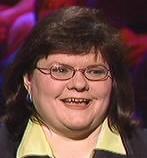 DW: I did. I graduated in '86 in business management. I worked in Memphis for a while in entry-level jobs. First, I was in the hotel business for a chain of Hampton Inns. Then, I worked for the Seesel's grocery chain.
In '88, I was hired in Nashville at one of our sister (Church of Christ-supported) schools, David Lipscomb University. I worked there for nine-and-a-half years and started out running the dorms. Then, they moved me into Student Services and they liked what I was doing, so they made me assistant dean of students.
In June of '97, Freed-Hardeman had an opening for a dean of students and they hired me. I was handling mostly discipline and I did that well---but after a while, you like to see the other side of life. So, in June of last year, I was named dean of campus life and now I handle student activities and a lot more of the fun things of college. I'd been involved in discipline for 12 years, so this was a refreshing change.

GSCC: You also produce Freed-Hardeman's annual musical revue, "Makin' Music."

DW: I love doing it. I sang in it as a student for the five years I was here. It's an FHU tradition. At Lipscomb, I assisted with the annual "Singarama" show for nine years. When I came here, the person who produced "Makin' Music" was leaving, so they said with Donna having all this experience, let's ask her.

GSCC: In fact, I hope to show highlights of "Makin' Music" soon on my Sunday afternoon music show. But Donna, how did you develop your thirst for knowledge and trivia?

DW: I've loved it all my life. I learned to read with Childcraft encyclopedias. When I got older, I moved up to World Book. I'd find a section which looked interesting and read the whole thing. I had a real knack for history, biology and trivia. I'd learn every jingle I'd hear and sing myself to sleep. My mother said many was the night she'd find me singing about the Pepsi generation. My brother and sister never paid much attention to any of this.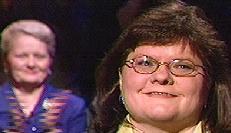 GSCC: Speaking of mother....you're awfully fortunate to have one who is a banker and can help you take care of that $160,000-or-so you'll have after taxes?

DW: Isn't she terrific? She had only flown once before. She said, "I'm just a little lady from Arkansas," but I was thrilled I could give her the opportunity to be with me for this.

GSCC: Before the big-money shows returned five years ago, how much of a game show fan were you?

DW: A big one. I've always loved Jeopardy! and all the classic games. I love Win Ben Stein's Money. He's amazing to see how much he knows. For me, it's the accomplishment of seeing how far you can go. I'd love to have been the first woman to become a millionaire....but if you set out to play the game that way, you'll become more concerned with that than just taking each question as it comes.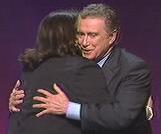 GSCC: How much did you prepare for the show?

DW: Almost none. We've been so busy getting ready for an accreditation team at our school that I had to devote most of my attention to that. I did buy an almanac and a world map but I didn't have a chance to really look at them. I took them on the plane but I began to think the chances were so small that I could narrow down what I might be asked, so I decided not to cram for a lot of information that probably wouldn't be there. It's like the ACT (or SAT) test. You can't study for it. You either know it or you don't.

GSCC: Donna, you were amazingly calm all the way through.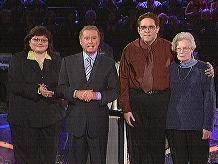 DW: I never got nervous. I was blessed with a clear mind. I was worried I might not get a good night's sleep the night before and be a zombie. But it didn't happen. I actually think it helped being there when Kevin Olmstead broke the record. That was exciting, except when Kevin began hyperventilating. We were all worried he was going to fall out of his seat.

GSCC: But how on earth could you sleep in the Empire International Hotel? When the gang and I went to do 20/20 in January, all I heard all night long was traffic and horns. I bet I didn't sleep three hours.


DW: I never heard it. We were up on the tenth floor and maybe we were more isolated. Now, mother heard it all night. But my phone-a-friend (Jackson, Tn., internist) Steve Weaver prescribed me some Ambien, the kind of sleeping pill that doesn't leave you with aftereffects in the morning. Sometimes, I have that insomnia you experience when you just can't turn your brain off.

GSCC: Until you conceded at $500,000, was there any question which left you uncertain?

DW: The one question I disagreed with where it was placed was the $300 question about the phrase "the whole megillah." As you well know, that's something not much of anybody says in the South. So that's why I asked the audience. Then, of course, 87 per cent knew it but that's a New York audience. That may be a fundamental phrase there but have you ever heard people in the South say it?

GSCC: Let's say this, I never heard it in Waycross, Ga., and it's not a common phrase in Jackson, Tn. But, tell me, Donna, we've heard of some long deliberations on past shows over questions which are sharply edited for time. Did that happen to you, at all?

DW: Not really. The only part of our conversations they edited was a part where Regis asked if I was a teacher and I said, "No, I'm just some quirky kid who grew up reading encyclopedias." But you won't believe what happened on the $250,000 question.

GSCC: I can't wait for this. I was on the edge of the seat when Steve yelled with literally one second left, "It's BAT MASTERSON! We're 100 PER CENT!," on the question about the Wild West legend who spent his last years as a New York sportswriter.

DW: When he said that, some people in the audience laughed. So, I didn't understand anything Steve said. I said, "Thanks for nothing, Steve." Regis asked me if I understood and, as it turns out, he didn't understand him, either. So, I was really debating what to do, whether to quit and take the $125,000.
The producers came out and asked me and Regis if we knew what Steve said. We both said no. They asked the audience to be quiet and they were lectured on the importance of being quiet during the whole 30 seconds of the phone-a-friend segment to be fair to the contestant.
Then, they reran the audio of the call. I heard Steve say Bat and I started smiling and I knew I was going to go for it. They edited out the part where Regis and I were confused. They edited right after Steve said 100 per cent. On the air, it appeared so seamless, I was amazed. But there was a 10-minute gap in the studio when I didn't know what was going on.

GSCC: You told The Jackson Sun you dreamed twice about this happening.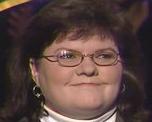 DW: I literally had two dreams last summer---one, I went through the whole experience and woke up exhausted. The other one, I went through everything from the callback to doing really well on the show. But as much as I'd have loved to go all the way, I wasn't going to risk $218,000 on a hunch I wasn't positive about.

GSCC: On a totally non-game show note, you've had to work with college students for 13 years. You and I both work for Christian universities but even under that umbrella, the job is tougher than ever. What are the most difficult things you see about and facing today's young people?

DW: They're so saturated with so much, particularly in the culture. In the '80s, we didn't have access to personal computers in dorms. We typed our papers and used whiteouts. There were not two TVs or two stereos per room. I see a number of kids becoming blase. They're exposed to so much pop culture, they're not stretching their minds.
&nbsp A lot of what they see in entertainment and other areas of pop culture is negatively influencing their morality, their choices, their prioritizing in life. It's often not untila fter college when they become parents that they realize the consequences of their decisions and behavior.
Kids today can be wonderfully nice---but I sense a lack of gratitude for the things which are done for them. You don't hear nearly as many of them say "thank you" or show the kind of appreciation they should.


GSCC: Donna, I know this is great money, but I don't think it's great enough that I sense a resignation going to the FHU president's office?

DW: No. I'll be here at work after my check comes. Financially, it does make life comfortable enough not to have to live from paycheck to paycheck. By nature, I'm an impulsive person. But just like when I played the game not to rush to pick an answer, just because it was obvious, I now have to manage my money wisely to create a nest egg when the time comes to help my loved ones.
I do have the unlisted number now, so I can fend off all the fly-by-nighters who want you to invest in every scheme.
But I have been very blessed. While there may be a few things I'll do for myself, this is not money for me to hoard or use selfishly. I hope this opens the door for me to help others---my family, my friends, to give to my church and to enhance FHU---because all of them have given a lot to me.

---
Back to Homepage
Dove Foundation
Allen Ludden
Art James
Wink Martindale
Tom Kennedy
Dennis James
George DeWitt
Jack Narz
Betty White
Jay Wolpert
Game $how Page
Newhoo Games
G.S. Knowledge
Game Show Themes
G.S. Software
GO Games
TV Trivia
Game Show Network