Remembering Judd Rose
When you reach 45 and you see someone in your profession pass on who is in your peer age bracket, you recognize how precious every moment is.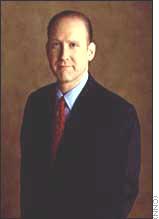 Last month, we lost CNN (and former ABC News) correspondent Judd Rose. He was 45. Rose had waged a courageous battle against cancer for nearly five years. When he was diagnosed with a brain tumor, he shared the diagnosis with the world and pressed on to make as much out of life as he his energy would allow. He reported for CNN until a few months before his death.


Judd Rose was a distinguished correspondent. He was a network newsman who did not give away his ideology in his reports, as so many do. Often, he brought America the upbeat side of life on his many 20/20 projects.
However, few----other than hardcore fans older than 30 and tape traders----recognize Judd had a connection with game shows which should make him the answer to a trivia question.
In June 1975, Judd was a college student, struggling to find a way to pay his tuition. He tried out for a game show and was selected to play. At the time he was chosen, he had no idea he would be one of three contestants on the show's final day.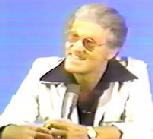 The emcee that day was Tom Kennedy and the occasion was a bittersweet one for many game show fans. Split Second was a show around which many college students planned their daily class schedules. From Tom's proclaiming, "Look at the board," to the drama of the countdown round, to the magic moment when one of five Pontiacs onstage would either crank or die, Split Second was one of the finest question-and-answer games ever crafted. Fast-paced, intelligent and masterfully presided over by Tom, Split is a game many observers feel networks overlooked when attempting to seek a contender to the WWTBAM quiz juggernaut.


Judd sat on the left of the three-contestant panel that final day. He trailed by $50 going into the Countdown Round and actually managed to lead his two challengers, narrowing his necessary number of correct answers down to two---but missing a key question.
Rose and his two fellow players were the beneficiaries of executive producer Monty Hall's generosity on the showcloser. The car selected by the eventual winner was not the "hot" one but Monty gave the guy the vehicle, anyway. A $1,000 bonus which ordinarily would have gone to the car winner didn't go to the day's champion.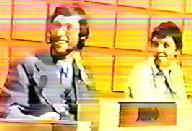 "What do you say we divide that $1,000, $500 apiece, between Judd and Frances?" Tom asked, to the roaring approval of the audience. The smile on the then-bearded Rose was bigger than a crowbar could have pried.
The $670 he won that day was peanuts in today's seven-figure jackpot market. However, in 1975, the money went a long way. Several years later, while covering a Ronald Reagan speech, I encountered Judd, by then a rising member of the ABC News team. I asked him if he was the same Judd Rose on that last Split Second. Indeed, he said, he was. "That money made the difference in my being able to stay in school," he offered. That particular day, Judd was particularly generous with a couple of members of my news staff who were asking career advice.
Judd Rose was not the biggest name in television news but he was one of the most thoughtful and thorough. I always enjoyed his style. We truly need more of his ilk in today's pop journalism-dominated field. He left us much too soon. Yet, along with his reporting, I'm glad he left us with a memory of one of my favorite games of all-time. One which ought to be on again now.

---
Did Michael Davies swerve everyone intentionally? Depends on which account you read. I have seen three reports which quoted Davies as saying the second millionaire within a week would come July 13. The other two I saw indicated "the show will have two big winners within a week."
I used an analogy on the David Goodman story about pro wrestling. One of the oldest tricks in the book of wrestling promoters (Vince McMahon and Eric Bischoff still occasionally employ it) was to swerve the fans, making them think a certain wrestler would win a title, then placing the belt on someone else. Soap opera writers have swerved viewers for years. Think about the many fans of Bobbie Eakes' Macy Forrester character from The Bold and the Beautiful this week. Macy was supposedly killed in an explosion of a car Tuesday. Or was she?
Davies probably wasn't thinking wrestling when he gave the incorrect date of Goodman's win (Goodman was not named in advance) to reporters. Yet, did he throw viewers off the trail, just to ease their irritation at his giving away another finish? Could be.
I still don't like the tactic, swerve or not. This show has no need to advance that kind of information and I have news for you: it does not work in boosting ratings. I sincerely hope this is the last of the spoilers for WWTBAM.

---
Back to Homepage
Column Archive
---
Allen Ludden
Art James
Wink Martindale
Tom Kennedy
Dennis James
George DeWitt
Jack Narz
Betty White
Jay Wolpert
Game $how Page
Newhoo Games
G.S. Knowledge
Game Show Themes
G.S. Software
GO Games
TV Trivia
Game Show Network