What's My Line? at 50
I had just turned 13 on that emotional Sunday night when What's My Line? bade its final farewell to network television. Monty Hall had given away an $8,400 Cadillac Eldorado for the Big Deal two hours earlier on the finale of NBC's summer version of Let's Make a Deal.
Monty was upbeat, optimistic and after finishing in the Nielsen top 20 consistently during the summer, had confident reason to believe NBC would pick up his Deal for prime time at midseason. That was a deal which fizzled. NBC said no. That was the first chill in a relationship which iced to the point of Monty moving to ABC a year later.
At the other end of the scale, this was the funeral service for network television's second-longest prime time servant (only Ed Sullivan had more endurance). What's My Line? was one of the last of television's 10:30 shows, the hour-long drama, western or variety show having taken over as the network's lead-ins to late local news. The once-powerful combination of Candid Camera and Line had suddenly collapsed in 1966-67 against a strong lineup of ABC movies.
What's My Line? would be the last prime time game on CBS in a fall or winter season, ironically, until Winning Lines. However, the finale was anything but morbid. Goodson-Todman brought back the first three contestants on the show's premiere in 1950. The archive was raided for clips from that debut, along with the first appearances of panelists Arlene Francis, Martin Gabel, Bennett Cerf and Steve Allen. The brilliant climax saw host John Charles Daly step behind the curtain to sign himself in as the show's final mystery guest. Daly appeared delighted to carry the panel to "six down and four to go" before Cerf, the master celebrity indentifier, asked, "Could Mr. Daly possibly be impersonating himself?"
The debut episode---as well as the finale---fortunately survives and is part of the G-T library Game Show Network licenses from Pearson Television. Fifty years ago this week, that first edition launched what appeared to be anything but a television classic.
On a barren stage and using a cheap-looking artist's easel for celebrities to "enter and sign in, please." Only Dorothy Kilgallen, who would endure for 15 of the show's network seasons until her untimely death, displayed any semblance of personality on the panel. Most of the panelists and emcee Daly lit cigarettes so frequently, the set was afog by mid-show.
That debut and the succeeding show had no sponsor, no theme music and little rhythm. Daly was a year or so from patterning the long-winded responses, repartee with Cerf (who was a couple of years away from becoming a regular) and acerbic wit which made him a viewer's delight.


Had squeeze-bottle deodorant inventor Jules Montenier not agreed to buy into the show after its third episode, this column may well have not been written. Interestingly, I never saw What's My Line? until 1958. Stopette (tell me, has one ever heard a more gross name for a deodorant?) was not sold in the Columbus, Ga., market where I lived until the late 1950s, when the product was purchased by Helene Curtis. So, WRBL, the city's CBS affiliate ran assorted syndicated shows, rather than Line.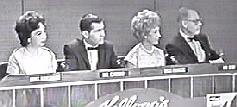 Steve Allen, after a radio interview a couple of months ago, told me his perspective on the secret to Line's success. "It was pure fun. It was one of the best outlets for spontaneous humor," said Allen. "There's a built-in bias, for the most part, against shows of that type within the business. But everyone in New York and Hollywood watched on Sunday nights to see who the mystery guest would be." That was another secret---Line never scraped for the fifth lead in a sitcom as the mystery challenger in the network version.

Arlene Francis was never reduced to being blindfolded for Doris Packer (one of my favorite supporting players) and Steve Franken of The Many Loves of Dobie Gillis.
How Gil Fates managed to put together the followup syndicated version, I'll never know. Yet, Goodson-Todman managed to squeeze another seven years out of Line. The mystery guests did stretch the imagination on many occasions. Yet, the emcees both did the original proud. Both, sadly, have passed on.
Wally Bruner Jr. works for the state of Tennessee. His father, who presided over Line from 1968-72, took pride in the show. "Dad had a tough job to fill the shoes of John Daly," Bruner told me last year. "But he had a lot of support from Arlene and Johnny Olsen (who stayed on as announcer during the Bruner years). He had a great relationship with Johnny." In the show's first syndicated season, young Wally----just an infant----was in a Line segment where the panel was involved in diapering a baby. Bruner Sr. passed away late in 1998.


Josh Blieden, son of the late Larry Blyden---who took over for Bruner from 1972-75---got to know most of the celebrity panelists who worked with his father through the years. "Soupy Sales knew every blue story and joke that had ever been written," said Blieden in a phone conversation last year. "And he'd tell them after every show." Blieden said his father had a special fondness for

Arlene Francis. "Everybody loved Arlene," said Blieden. "Dad knew her from Broadway. He had been on the panel on the old Sunday night show. She made him feel right a home when he became the host."
In 1975, the old warhorse had drunk from the trough once too often and after toying with moving the show to Hollywood, Goodson-Todman put it to bed. ABC, on its old Wide World of Entertainment late-night cornucopia, paid tribute in a 90-minute finale, What's My Line? at 25. Daly, Francis and Mark Goodson reunited to sift through a quarter-century of show business history. Everyone from John Wayne to Gerald Ford whisked through to jog our memories.
Line has continued to stay on the shelf. Miramax Films, a Disney subsidiary, licensed the format for a new version in 1994. Nothing developed. CBS apparently planned to revive the classic for a summer run in 1998. The series never materialized and a network spokesman told reporters, despite its being touted in the summer preview edition of TV Guide, "We never made any committment to that show."
As soon as Who Wants to Be a Millionaire hit big in August, CBS announced again it would bring back Line in the summer of 2000. Somewhat of a contrast to the big-money question-and-answer mania in our current midst.
I've always felt What's My Line? was one of the best pure, fun games ever devised for television. Yet, I have to wonder if in today's climate, without a dramatic shakeup of the traditional format, will the audience's attention hold for four people trying to deduce if a guy is a snakecharmer. Or if CBS is unwilling to spend the money for big-name mystery guests, will viewers yawn through a masked quartet attempting to ferret the identity of Tempestt Bledsoe?
Who would my emcee be? Considering the trend toward mature hosts and with the need for a quick wit to carry an exchange with a panel (which should not be a group of standup comics trying to top each other), I have two ideas. Bob Newhart or Tom Snyder. No explanation needed.
However, could someone answer me a simple question? A 50th anniversary is not a cheap milestone. I recognize the decisionmakers at GSN are ultra-concerned with maintaining a younger demographic in prime time. However, could the good folks in Culver City not have devoted a token evening Wednesday to acknowledge and tip the cap to one of television's greats. Me thinks someone missed one big-time here.

---
Back to Homepage
---
Allen Ludden
Art James
Wink Martindale
Tom Kennedy
Dennis James
George DeWitt
Jack Narz
Betty White
Jay Wolpert
Game $how Page
Newhoo Games
G.S. Knowledge
Game Show Themes
G.S. Software
GO Games
TV Trivia
Game Show Network