A New Need for Greed
Greed has a need----a big winner....and soon. Of all the newcomers in our current network prime time game show renaissance, the Fox offering is settling into a comfortable ratings pattern---with a discomforting level of failures and conservatism.
Three key reasons earned this show a respectable sampling and early following. First, Greed was the initial attempt to cash in on the Who Wants to Be a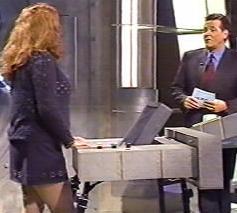 Millionaire locomotive. Second, viewers could not help but be intrigued by any quiz show which attempted a two-hour premiere. Third, the telegenic personalities (and one set of hair) of Dan Avila, Curtis Warren and Melissa Skirboll reaching for the show's top prize on the second and third shows offered an electrifying premise.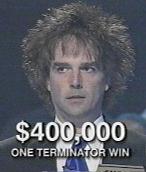 Since Curtis and Melissa took their $400,000 and went home and Dan sent us all to the Maalox counter after his $2.2 million fizzle, Greed has been beset by several problems, from this corner.
The show's question writers are increasingly presenting questions at the higher categories based on survey preferences, rather than definitive answers. With the numbers of choices required, the sheer factor of probability appears to be shying teams away from bigger dollars. Since the show's return Jan. 5, no team has gone for a $1 million question. Three teams have crashed at $500,000.
A majority of teams fortunate enough to make the $200,000 level are finding that the safe haven to stop. Fewer captains appear to have the guts to risk a chance at a bigger jackpot and, to a degree, one cannot blame them.
That, in itself, is resulting in a serious amount of predictability. The design of this game dictates the ability to generate compelling personalities around the risk factor and the success level in reaching higher jackpots.
Had Dan, Curtis and Melissa not made the climb to or near the top of the Tower of Greed, the three would never have been the most memorable personalities from this series' three-month history.
That poses another dilemma: do the producers dumb down the questions to make the higher jackpot more feasible? Hardly, without incurring the wrath of previous players----and some elements of the audience.
Do they reduce the numbers of choices required to succeed? Or increase the number of available "Freebie" insurance markers from one to two per game? The latter may be a more appealing choice.
If the bar for a game show is going to be $2 million, viewers want to see players have a reasonable shot at reaching that goal. The beauty of WWTBAM is even with those who reach six figures, the near-misses are exciting. On Winning Lines, the end game is a one-person challenge against the clock which can leave a viewer breathless, despite the complexity of the game. Twenty-One will get strong attention as soon as it has one player to rip off several wins in a row and pile up a big jackpot. The modern version at least provides a reasonable possibility of such on every show.
Greed, on the other hand, appears stuck in a rut. Not an isolated rut as Millionaire had with its Night of Losers last Thursday. A rut which appears to be happening every Friday. One in which a viewer can almost perceive from the moment the telecast starts: nobody on this show is going to gamble beyond $500,000 and, more than likely, the teams which reach $200K will quit and go home.
If the show maintains its average of 7s and 8s in the Nielsens, Fox will be happy on Fridays. However, one senses viewers will feel a staleness if this show does not have another big winner (or team of winners) soon, if they are not already.
One other thing: why hasn't Fox made the producers offer an on-air disclaimer about contestant Todd Whitman being brought back with a subsequent team on the same night his original team crashed at $200,000? They owe that to the viewers, once and for all. I've been waiting for two weeks for the Fox spokesperson who originally contacted me to respond. I assure you: she will hear from me again this week. I do not forget such things.

---
Back to Homepage
---
Allen Ludden
Art James
Wink Martindale
Tom Kennedy
Dennis James
George DeWitt
Jack Narz
Betty White
Jay Wolpert
Game $how Page
Newhoo Games
G.S. Knowledge
Game Show Themes
G.S. Software
GO Games
TV Trivia
Game Show Network